Welcome to the Paddock, your VIP access to unique insights from some of the best mobility founders out there and curated news and trends reshaping the mobility sector globally.
—Rodolfo, Enrique, Cecy, and Bernardo.
💡If you know of any startup that is also committed to #reshapingmobility by being more efficient, safer, and environmentally friendly reach us here.
🏁Come visit The Paddock to see the full portfolio of P.V. companies.
Portfolio news
⚡️ Congratulations to the Joyride team for their partnership with GEM, the leader in street-legal low-speed vehicles (LSVs). With this partnership, Joyride's platform makes it seamless for operators to efficiently and profitably build and maintain a shared-use GEM fleet, all while providing an exceptional rider experience to end customers.
⚡️ We invite you to read EE Times | Electronic Engineering Times' latest article on teleoperations, featuring an article by DriveU.auto's very own Doron Elinav. In this article, Doron Elinav discusses #teleoperation and outlines the path forward for autonomous vehicles
⚡️We are proud to announce that out of 2,000 proposals, only 25 winners, including Deftpower, have been selected to receive funding from the European Innovation Council (EIC). Deftpower has been granted €2.5 million by the EIC to advance its smart charging business and scale all energy-related services.
⚡️Kuddos to the Electric Era team for launching their very first public fast-charging station at Plaid Pantry for electric vehicles. Drivers can now access reliable, affordable and easy-to-use EV fast charging like never before.bility
Interesting Reads
🔍 Mobility trends from our very own proprietary data
To celebrate our in-person Mexico City Summit and the F1 Grand Prix, we are happy to give you a special and unique access to our Paddock (pun intended) and share with you, our mobility community, some of the most intriguing insights we've gathered having mobility for breakfast, lunch and dinner over the last few years.
As you already know by now, we're a mobility-focused fund (aka ground transportation, #nothingthatfliesorfloats) investing specifically in late Seed to Series A startups based in all the Americas, Europe, and Israel. Through our mobility thesis, we've established five investment verticals: Industrial Technologies, Smart Components, New Vehicles, Mobility as a Service (MaaS), and Digital Data Services. Better explained in the following diagram:
Our mission is to discover and invest in visionary founders transforming the way we think about mobility and with whom we can partner to create a more sustainable world. Since launching our fund, we have had the privilege of meeting thousands of founders across various stages and regions, and we'd like to provide you with a sneak peek of our database. Below, you can see a snapshot of our accumulated deal count per stage, vertical and geography up until Q3'23.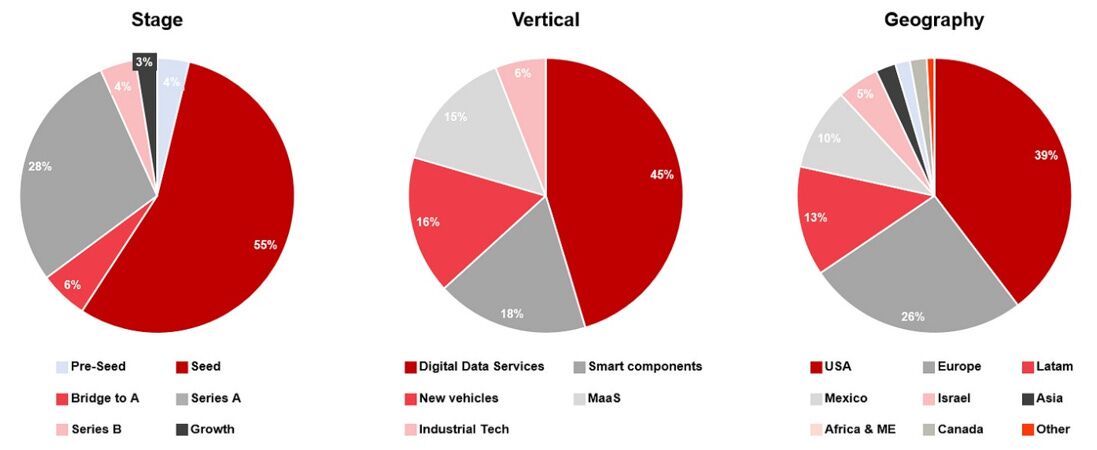 Throughout this time, we've primarily met with Seed-stage companies within the Digital Data Services vertical that are based in the US. However, over the years, we've observed some interesting shifts across stages, verticals, and geographies:
Seed Stage deals now account for more than 50% of our total deal flow, while Series A deals have seen a decline from 39% to 22% over the last 5 years.
Our Digital Data services, primarily SaaS B2B solutions, have experienced significant growth over the years. On the contrary, verticals such as New Vehicles and MaaS have seen a ~50% YoY decrease.
While the US remains our primary region for deal flow, Europe, Mexico, and LATAM (yes, we know, Mexico is part of LATAM but since it is our home base, we track it separately) experienced a ~30% YoY growth in 2023.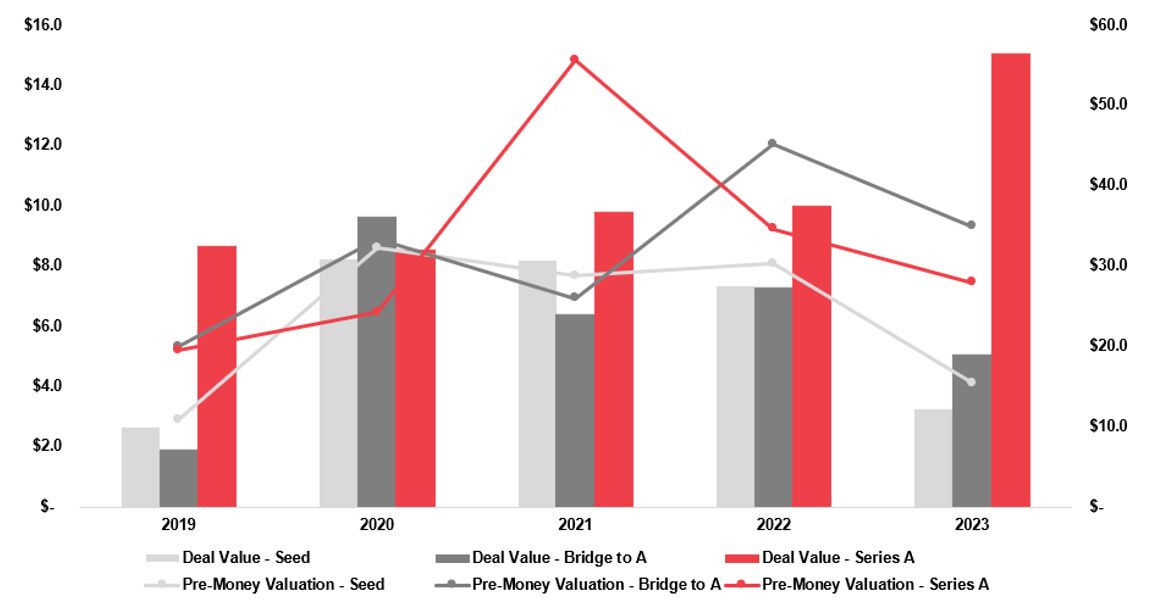 Furthermore, we'd like to share the historical deal value (founders' capital ask) and pre-money valuations per stage with some interesting key takeaways.
Series A pre-money valuations skyrocketed in 2021 with a 166% YoY growth, mainly because of big fundraising rounds for capital-intensive businesses. Part of the famous 2020-2021 valuation bubble.
In 2022 and 2023, pre-money valuations for Bridge to A or Late Seed Rounds exceeded those of Series A, probably as an aftermath of the previous year's bubble. We believe some early-stage companies looked for bridge rounds that allowed them to keep that higher valuation, while some Series A financings adjusted themselves to the market deceleration.
However, 2023 Series A deal values have increased 50% YoY, while Seed deal values decreased 56% YoY and Bridge to A 30% YoY. This means that companies in the Seed rounds are starting with a more capital-efficient or capital-conscious mindset. On the other hand, some Series A companies believe they have hit the right metrics to raise a bigger round, albeit by giving away a larger chunk of the company.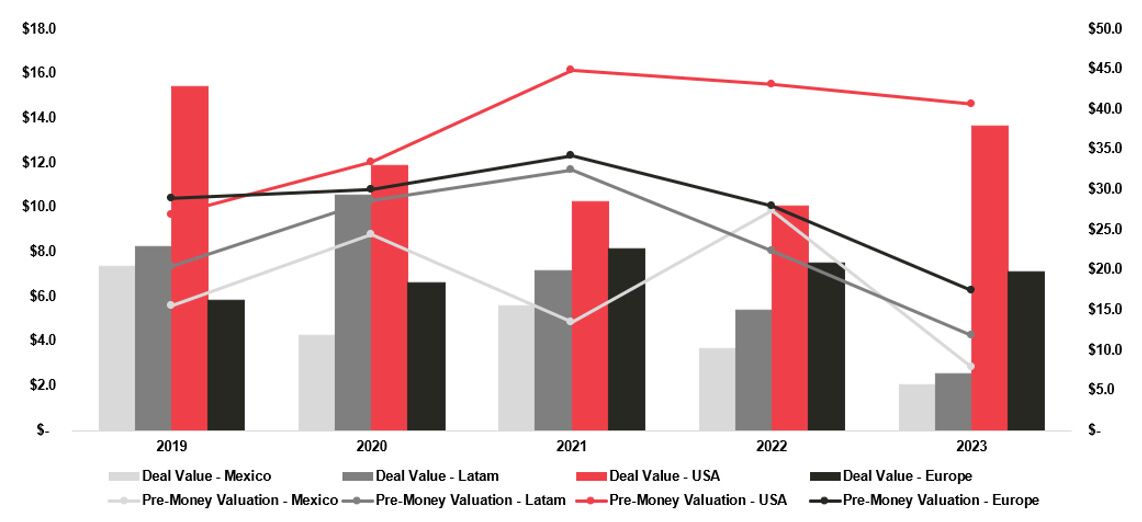 To complement the previous chart, we want to highlight the deal value and pre-money valuation behavior by geographic region.
LATAM and Mexico have experienced a significant decrease the last couple of years, a ~50% YoY, due to international capital leaving the region, which has had a substantial impact on deal values and pre-money valuations.
Europe has remained a steady region but has also been affected starting in 2022 with the market deceleration.
The US has been the only region in 2023 with an increase in deal value, a 35% YoY, and a stable pre-money valuation. We believe this is due to the attractiveness of the region and the larger possibilities of successful M&A and IPO exits, although those markets seem to be shut for now.
The mobility industry has experienced its ups and downs in the last couple of years, ranging from the boom in Autonomous Vehicles to the rapid expansion of micromobility business models, as well as the last-mile delivery explosion and the ongoing electrification and democratization of vehicles. But one thing is for sure, tech innovations are limitless and there are still millions of creative ways to improve how we can efficiently, sustainably, and safely move people and products from one place to another, and plenty of founders with the potential to bring these ideas to life.
We're all aware that this year has been a roller coaster, but it's been quite an exhilarating ride. We're eagerly looking forward to how the year ends and what the future holds for us in 2024 and beyond #futureinmotion #reshapingmobility
Some deals we found interesting
🚀 Aifleet, an Austin-based tech-powered trucking company raised a USD$14 million round led by Ibex Investors with participation from Obvious Ventures, Gerdau Next, Compound, Cooley and individual investor Tom Williams. (12.Oct.2023)
🚀 Bikmo, a company based in Chester, UK, that sells cycle and e-mobility insurance policies, raised EUR€3.4 million to drive European expansion. The round was led by Puma Private Equity. (20.Oct.2023)
🚀 Boundless Rider Insurance Agency, a Medford, Mass.-based insurance provider for motorcycle riders raised USD$4.3 million in new funding led by American Family Ventures and joined by Assurity Life Insurance Company and Belmont Capital. (30.Oct.2023)
🚀 Circu Li-ion, a Luxembourg battery recycling startup, has closed a EUR€8.5 million seed round led by BonVenture. (24.Oct.2023)
🚀 Enerlink, a Chilean startup has raised USD$3.6 million in funding and plans to expand into the Mexican market while continuing operations in Peru and Colombia. (31.Oct.2023)
🚀 Elyos Energy, a London startup founded this year that helps businesses and households manage their energy consumption by providing access to energy flexibility and demand response programs, raised a $3 million seed round. Investors included Rebel Fund, Zeno Partners, and Endgame Capital. (13.Oct.2023)
🚀 Flitter, a Paris-based pay-per-mile car insurance startup raised a EUR€3.5 million seed round led by Helvetia Venture Fund and participation from Frenchfounders fund, Stéphane Treppoz, Christophe Eberle, Laurent Ritter, Adrien Montfort. (6.Nov.2023)
🚀 Galgo, a Chilean fintech company, secured a USD$40 million investment round led by Mexican fund Nazca, with the participation of Grupo Auteco, WIND Ventures, Güil Mobility Ventures, Dalus Capital and Kayyak Ventures. (12.Oct.2023)
🚀 Gringo, a Brazilian car documentation management platform raised a USD$30 million Series C round led by Valor Capital Group with follow-on from KASZEK, ONEVC, Vostok Emerging Finance, ICU Ventures and Actyus. (27.Sep.2023)
🚀 Goodhood, an Ann Arbor, Mich.-based subscription service for car maintenance and repairs, raised USD$2.6 million in seed funding from Bullish, Mucker Capital, Okapi Capital, New Age Ventures, Kubera Venture Capital, and Impact Ventures. (11.Oct.2023)
🚀 Hayden AI, a San Francisco-based developer of AI-powered platform that monitors traffic law enforcement, raised USD$53 million in Series B funding from Drawdown Fund. (18.Oct.2023)
🚀 KeySavvy, a Seattle peer-to-peer vehicle payment platform that uses technology to eliminate the risk of title fraud for buyers and payment fraud for sellers, raised USD$2.0 million seed funding led by Porsche Ventures. (6.Nov.2023)
🚀 Laka, a a European mobility insurtech company for e-bike riders, acquired Cylantro, a French e-bike insurance broker. The company also announced a EUR€7.6 million round lead by Shift4Good alongside Ponooc, Autotech Ventures, ABN Amro Ventures, Porsche Ventures and others. (24.Oct.2023)
🚀 Land Moto, the Cleveland-based electric motorcycle manufacturer raises a USD$7 million series A led by Ancora. Additionally, the company is launching a convertible note amounting to USD$15 million to increase US production and focus on further expansion. (09.Oct.2023)
🚀 Nexu, a Mexico-based automotive financing platform has raised USD$20 million in Series B funding. The round was led by Valor Capital, FinTech Collective, and Endeavor Catalyst, as well as previous investors. (17.Oct.2023)
🚀 Pony.ai, a Chinese autonomous vehicle startup headquartered in Fremont, Ca., has raised $100 million from Neom, Saudi Arabia's futuristic city and development project. As part of the deal, the two are planning a joint venture to deploy autonomous vehicles and smart infrastructure in Neom and elsewhere in the Middle East North Africa region. (25.Oct.2023)
🚀 Rocktruck, a Chilean logistic operator, received USD$13.4 million investment from Lipigas which will own 70% of the company. This investment will allow Rocktruck to focus on strategic clients, electromobility and further expansion. (11.Oct.2023)
🚀 Treads, a Park City, Ut.-based startup that offers tire subscription service, raised USD$4.6 million seed round led by Mucker Capital, with participation from Kickstart Seed Fund, Peak Ventures, Royal Street Ventures and Convoi Ventures. (2.Nov.2023)
🚀 Volteras, a London startup whose API aims to provide developers with a platform to deliver new analytics and software for electric vehicles, chargers, and home batteries, raised a USD$2.9 million round. Investors included Exor, Long Journey Ventures, and Scott Banister. (13.Oct.2023)
🚀 Wareclouds, a Chilean startup has raised USD$2 million led by New York-based firm 2048 Ventures with participation of ChileGlobal Ventures. Wareclouds connects households with small and medium-sized enterprises (SMEs) and e-commerce businesses, allowing them to store inventory and streamline logistics. (23.Oct.2023)
A piece of good news
🌎 The Economic Impact of Hosting an F1 Grand Prix
With the skyrocketing increase in F1 fans worldwide, the cost of the sport itself has come under the spotlight, as ticket prices for each circuit increase each season. F1 is renowned as one of the most expensive sports globally, with the production of each car costing tens of millions annually. Given the high price tag on these vehicles, one might wonder about the overall economic impact of the sport on the 23 tracks where the races take place.
To illustrate the economic impact, let's take the example of Austin's 2021 race. During this event, F1 fans spent $400 million at the track and an additional $200 million in the city. Moreover, over the past decade of hosting the F1 U.S. Grand Prix, it has generated over $7 billion in economic benefits for both the City of Austin and the State of Texas. This economic boom has also resulted in the creation of more than 64,000 jobs for Texans every year.
With the Mexico City race taking place last week, we observed a significant social and economic impact. We are excited to maintain our country's position as one of the most important global event hubs and continue sharing our vibrant culture.
Where we've been
We usually are all around the place, but in this specific issue we wanted to highlight our most recent in-person summit where we invited our committee and our Latin founders to gather around in Mexico City to meet and keep thinking about #reshapingmobility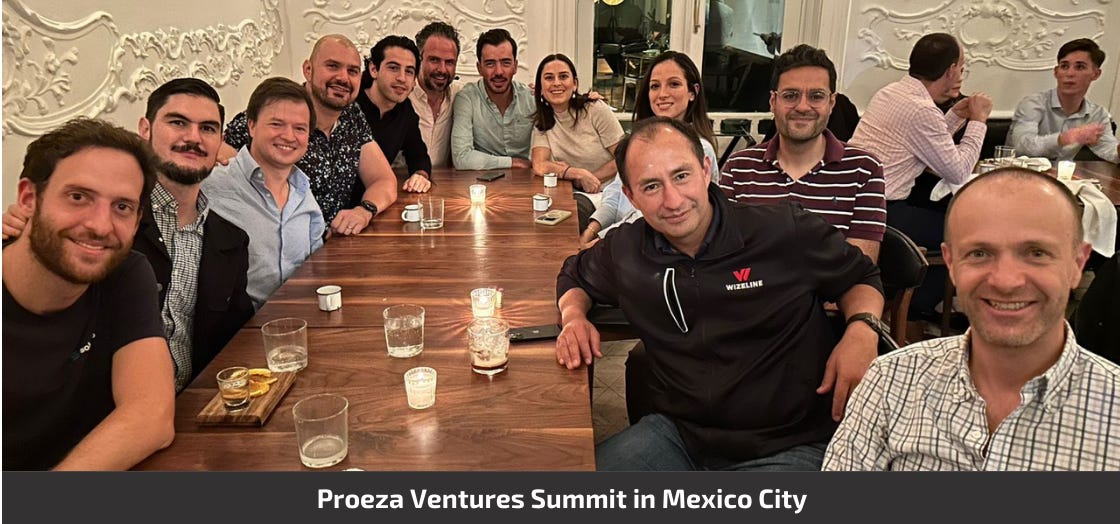 From left to right; Jaime, Santiago, Enrique, Rodolfo, Bernardo, Carlos, Rafa, Cecy, Conchita, Shash, Bismarck and Leo. For sure a team full of rockstars.
Where to find us next
🏎 IncMTY (14. Nov. 23)
🏎 Bonny Doon (29. Nov. 23)
🏎 Slush (30. Nov. 23)
Work at our PortCos
👩🏻‍💻Account Executive – Electric Era
👩🏻‍💻Engineer, Site Implementation- Electric Era
👩🏻‍💻Software Engineer – Electric Era
👩🏻‍💻Sales Development Representative – Electric Era
👩🏻‍💻Product Development Engineer eMobility Bike – ONOMOTION
👩🏻‍💻 Manager/Technischer Sachbearbeiter eMobility – ONOMOTION
👩🏻‍💻Backend Developer – Deftpower
👩🏻‍💻Operations Engineer – Deftpower
👩🏻‍💻Frontend Developer – Deftpower