Welcome to the Paddock, your VIP access to unique insights from some of the best mobility founders out there and curated news and trends reshaping the mobility sector globally.
—Rodolfo, Enrique, Cecy, and Horacio.
💡If you know of any startup that is also committed to #reshapingmobility by being more efficient, safer, and environmentally friendly reach us here.
🏁Come visit The Paddock to see the full portfolio of P.V. companies.
Portfolio news
⚡️Fantastic news! Kigo-Parkimovil has recently closed a new funding round led by Proeza Ventures and Liil Ventures, alongside strategic investors like Grupo Flecha Amarilla, Grupo Excelencia, and Grupo Huerpel. With Kigo-Parkimovil's 360° solution, they've solidified their position as the #1 urban mobility platform in Mexico and now expanding into other LATAM regions, including Guatemala, Colombia, and Panama.
⚡️ miituo continues opening up new distribution channels for insurance companies to digitally and seamlessly deploy new and innovative products. Starting this month, after a lot of planning and hard work, consumers in Mexico can now buy their pay-per-km insurance policy through Liverpool's online store and its mobile App. Liverpool is one of the most popular eCommerce and retail stores in Mexico. We couldn't be prouder of the team as they continue embedding their auto insurance products across different platforms and use cases!
⚡️Listen in to learn how Electric Era is providing above-the-grid charging and solving a host of other issues around EV charging. We invite you to check out Electric Era's founder and CEO, Quincy Lee, as he discusses EVs, the grid, and all things fast charging with Nick van Osdol from the Keep Cool Show.
⚡️Congratulations to Solvento for being recognized as one of the top 100 startups in Mexico by Forbes Mexico and Rockstarts. This list aims to highlight the best Mexican startups and the country's continuous growth. In this exercise, established unicorns with years of experience coexist alongside newly founded ventures with less than a year of existence.
⚡️ Excited to announce ONO's partnership with Sixt, one of the first and most influential international car rental companies in the world. As the first e-cargo bike, ONO will now be part of the SIXT Van and Truck rental fleet. This is a huge step for #reshapingmobility within cities since increases access to more sustainable solutions and allows different players, such as big enterprises like Sixt and their drivers, to benefit from it.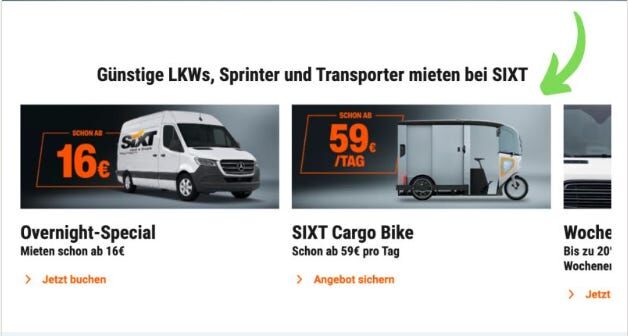 Interesting Reads
🔍 How far startups can fake it until they make/break it?
The startup ecosystem is renowned for its dynamic and ambitious nature, with a culture that fully embraces the philosophies of "fake it till you make it" and pushing boundaries. These approaches project confidence, ambition, and a strong vision – even in the face of uncertainty, which are crucial to attract investors, customers, and talented individuals. By presenting themselves as serious contenders in the market, startups instill trust and generate interest in their products.
It is crucial, however, to draw a clear distinction between presenting a compelling vision (i.e. "fake it till you make it") and engaging in deceit or misrepresentation. While projecting confidence can be a psychological and strategic tool, entrepreneurs must uphold ethical principles to ensure they do not cross legal and ethical boundaries. The notorious case of Theranos, the high-profile startup led by Elizabeth Holmes, illustrates this point. The company claimed to have developed groundbreaking blood testing technology – managing to raise millions from well-connected investors – yet investigations later revealed that the company was "faking it" more than they wanted to admit, greatly exaggerating their capabilities and criminally misleading customers about the effectiveness of its technology.
Similarly, startup culture encourages pushing boundaries to achieve breakthroughs and to gain a competitive edge. Entrepreneurs are urged to challenge conventions, think disruptively, and create innovative solutions. This mindset fosters an environment where rule-breaking, within legal and ethical limits, is seen as a means to achieve growth and progress. However, it is crucial to differentiate between positive boundary-pushing and participating in activities that might not align with the best judgment.
The recent tragic instance involving OceanGate, the deep-sea exploration startup, provides us with a chance to reflect on the intricacies of venturing into uncharted territories and exploring the outer limits of what's possible. Their audacious mission aimed at exploring the depths of the Titanic sparks discussions about the importance of caution, prudence, and judicious decision-making. In the ever-enthusiastic startup landscape, where creativity and daring are celebrated, it becomes crucial to harmonize enthusiasm with the well-being of all stakeholders, incorporating meticulous risk evaluations during decision-making and maintaining rigorous safety protocols.
Entrepreneurs must recognize that ethical conduct and accountability are of utmost importance. By embracing responsible practices and fostering a culture of integrity, startups can successfully navigate the challenges that lie before them – ensuring their long-term success. The cautionary tale of Theranos serves as a reminder of the potential risks associated with unethical practices, and the tragedy of OceanGate reminds us of the importance of caution and prudence in the face of discovery.
🔍Rental Cars are the New Airbnb
A strong ecosystem of small-time entrepreneurs is growing around car-sharing apps, like Turo and Getaround, especially as they continue to gain more popularity. As WSJ puts it, renting cars is the latest iteration of gig work. Most of these entrepreneurs/side hustlers are building up inventories of cars, from 3 vehicles to 50+ vehicle fleets, renting them out in car-sharing platforms. On Getaround, "power hosts" – those who own 3 cars or more, represent 70% of the active cars on the platform, while at Turo, 15% of the hosts last year listed 3+ vehicles. Enrique, one of our partners, had the opportunity to rent a Tesla Model 3 from a host who owned 5 Model 3 Teslas and was dedicating a great share of his time to his business build around the platform. A big example of this trend is Joulez, a Bronx-based company with a 60-electric vehicle fleet, that rents out their vehicles through Turo and separately through its own channels.
Nevertheless, renting cars is not an easy business, a deep understanding of its nuances is needed to build out a profitable business, and in many cases, scale really helps with this. From lack of financing, knowing which cars are the best and most reliable to rent, to managing the full cycle of renting – costs of parking, cleaning, insurance, financing – it is a challenging business. This has led to new services around this ecosystem; from mentorship programs to an auto-lending startup (Tenet) focused on this market. This makes us question ourselves, as car sharing continues to become mainstream, what other services will be needed to support this growing ecosystem of entrepreneurs.
Some deals we found interesting
🚀Alpha Grid, a San Francisco-based EV charging infrastructure development software company, raised $2.5 million in funding. Asymmetric Capital Partners led the round and was joined by Twine Ventures. (19. Jul.23)
🚀Ampcontrol, a New York-based startup whose software helps fleet operators using EVs maintain charger uptime, plan routes, coordinate with energy tariffs, and monitor their vehicles and chargers with live data, raised a $10 million Series A round. The deal was led by the Westly Group, AngelPad and Lorimer Ventures. (1.Aug.23)
🚀BusRight, a New York-based school bus technology provider, raised $7 million in Series A funding. Las Olas Venture Capital led the round and was joined by Ubiquity Ventures, Underscore VC, Long Journey Ventures, SilverCircle, Automotive Ventures, Alumni Ventures, CreativeCo Capital, and other angels. (20. Jul.23)
🚀Cargo Produce, an-Austin based Logitech company just closed a $4.5 million round led by VCM Global Asset Management. (10. Jul.23)
🚀ChargeX, a Munich-based developer of electric car charging infrastructure, has raised €11.5 million Series B led by UVC Partners. (7. Jul.23)
🚀CYCLE, a Berlin-based full-service mobility solution for delivery services and couriers, has raised €10.3 million in a Series A funding round led by Scania Growth Capital (East Hill Equity). (19. Jul.23)
🚀Dynamon, a Southampton, U.K.-based data analytics and simulation tools software company for commercial transport and logistics companies, raised £4 million in funding from bp ventures. (3. Aug.23)
🚀ev.energy, a London- and Palo Alto, Calif.-based electric vehicle managed-charging software platform, raised $33 million in Series B funding. National Grid Partners led the round and was joined by Aviva Ventures, WEX Venture Capital, InMotion Ventures, Energy Impact Partners, Future Energy Ventures, and ArcTern Ventures. (27. Jul.23)
🚀Flipturn, a New York-based EV fleet operations platform, raised $4.5 million in seed funding. Accel led the round and was joined by Comma Capital and Background Capital. (27. Jul.23)
🚀Go Eve, an Ireland-based EV charging startup, raised £3 million in funding from The Pearl Family Office, Carter Gem, Automotive Ventures, Kero Development Partners, and Cur8 Capital (10. Jul.23)
🚀Goodhood, a Dallas, TX-based subscription-first care tech startup, raised $2.6 million in funding. The round was led by Bullish with participation from existing investors Okapi Capital and Mucker Capital, and new investors New Age Ventures, Kubera Venture Capital, and Impact Ventures, among other executives as angels. (12. Jul.23.)
🚀Hive Power, a Switzerland-based leading provider of solutions for energy optimization, announced that it closed a new funding round totaling $600,000. The company received strong support from Techstars, Péter Ilyés (former CEO of E.ON Italy), TiVentures, and Magility Ventures. (10. Jul.23)
🚀Hoop Carpool, a Madrid-based corporate carpooling has raised €1.2 million in a new investment round led by Ship2B Ventures through BSocial Impact Fund, supported by Banco Sabadell, FEI, and AXIS, as well as 4Founders Capital. (11. Jul.23)
🚀Koop Technologies, a New York Based Insurtech has raised new funding from top-tier technology investors, led by Alley Robotics Ventures, to scale the distribution of its proprietary insurance products and risk-control tools for robotics and autonomous vehicle risks. (17. Jul.23)
🚀Leverage, a New York–based supply chain and visibility startup raised $7 million in a round led by Chicago Ventures. (17. Jul.23)
🚀RideTandem, a London-based sustainable transportation company, raised £2.3 million ($2.97 million) in funding. Blackfinch Ventures led the round and was joined by FirstMonday VC, Rainmaking Impact, 1818 Venture Capital, Ascension, and Low Carbon Inno. (12. Jul.23)
🚀Rocsys, a Netherlands leading provider of autonomous charging solutions for electric transportation, today announced a $36 million Series A funding round. Led by SEB Greentech Venture Capital, the round also includes participation from Graduate Entrepreneur, the European Investment Bank, and returning investor Forward.One. (11. Jul.23)
🚀Treehouse, a San Francisco-based electrification company that delivers turnkey installations for home EV charging, announced $10 million in funding. The round is led by Montage Ventures and Trucks Venture Capital, with participation from CarMax, Assurant Ventures, Acrew Capital, Gutter Capital, Detroit Venture Partners, Holman, and Automotive Ventures. (9. Aug. 23)
🚀Torqi, a Brazilian fintech focused on agribusiness logistics, received a $12 million investment round led by Galapagos Capital. Allowing Torqi to explore new territories in the transportation market and improve credit and collection processes and policies. (12. Jul.2023)
🚀Turbi, a six-year-old, Brazil-based car-rental startup that allows users to book vehicles online, with doorstep delivery and pick-up service, has reportedly raised $16.4 million in funding led by EXT Capital, with participation from Solis Investimentos, Jive Asset Management, Banco Daycoval, TMF, and Oliveira Trust. (19. Jul.23)
🚀Voltpost, a New York City–based startup, closed a $3.6 million seed round led by RWE Energy Transition Investments with participation from Twynam Funds Management, Exelon Foundation, Good News Ventures, and Climate Capital, TechCrunch+ has exclusively learned. (24. Jul.23)
A piece of good news
🌎Yale's most popular on-campus class in its 319-year history is now available for free online. "The Science of Well-Being," which originated as a course at Yale and is now offered on Coursera, has garnered explosive popularity. The course is an adaptation of Professor Santos' 2018 "Psychology and the Good Life." It covers a wide range of amazing topics, including misconceptions about happiness, the reasons behind our poor expectations, how to overcome biases, identifying what truly makes us happy, and implementing effective strategies.
Where we've been

Where to find us next
🏎Mujeres en fondos de capital privado – AMEXCAP. (1. Sept.23)
🏎FEMSA Ventures Day. (20. Sept.23)
🏎Other events in the Mobility ecosystem
Work at our PortCos
👩🏻‍💻B2B Local Partner Marketing Lead – Ridepanda
👩🏻‍💻Senior Software Engineer – Ridepanda
👩🏻‍💻Ops Manager (SF & LA) – Ridepanda
👩🏻‍💻Product Manager – Ridepanda
👩🏻‍💻Head of Finance – Ridepanda
👩🏻‍💻Electrical Engineer – Electric Era
👩🏻‍💻Head of Government Affairs – Electric Era
👩🏻‍💻Head of Policy and Grants – Electric Era
👩🏻‍💻Headof Growth – Electric Era
👩🏻‍💻Finance and HR Manager – Electric Era
👩🏻‍💻Software Engineer – Electric Era
👩🏻‍💻Business Operations Analyst – BusUp
👩🏻‍💻SDR – BusUp
👩🏻‍💻Product Manager/Rider Experience – Joyride
👩🏻‍💻Product Designer – Joyride
👩🏻‍💻Especialista en CRM – Autolab