Welcome to the Paddock, your VIP access to unique insights from some of the best mobility founders out there and curated news and trends reshaping the mobility sector globally.
—Rodolfo, Enrique, Cecy, Vanessa, and Horacio.
💡If you know of any startup that is also committed to #reshapingmobility by being more efficient, safer, and environmentally friendly reach us here.
🏁Come visit The Paddock to see the full portfolio of P.V. companies.
💪 We would like to express our gratitude to our on-wheels community for the incredible reception and support of our PV Mobility Market Map. Our primary objective is to bring to light the amazing startups that are actively reshaping the mobility landscape. We want to emphasize that the PV Mobility Market Map will always be a dynamic and evolving resource (available here), open to continuous updates and improvements to reflect the latest developments and innovations in the field.
Welcome Rhythmos!
Rhythmos is an electric vehicle (EV) and commercial fleet charging and grid optimization technology company that develops advanced solutions that optimize the entire electric network. Rhythmos' Algorithmic Optimization System (AOS) platform uses advanced machine learning and data analytics to optimize grid performance considering multiple factors such as EV fleet owner operational requirements, existing utility tariffs and rates, electric utility infrastructure capacity, and more.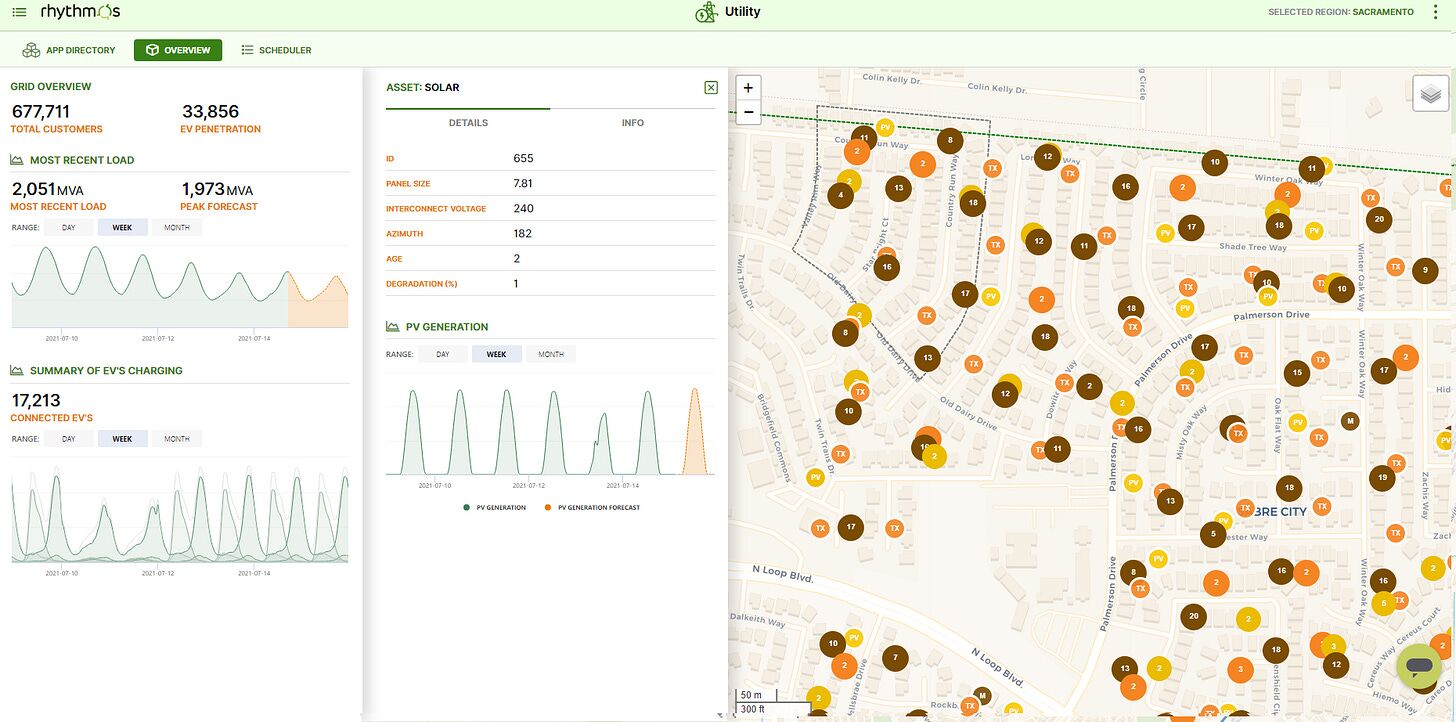 Why we invested
During the last few years, as we have strived to achieve our mission to reshape mobility while promoting more sustainable transportation alternatives, we have seen front and center how the mobility and energy sector have been converging. As EV adoption continues to rise, it has become increasingly clear that many utilities are ill-equipped to keep pace with the growing energy demand. In our quest to solve the energy grid constraints, we discovered Rhythmos, an EV and commercial fleet charging and grid optimization technology company that develops advanced solutions that optimize the entire electric grid.
Rhythmos has a truly unique approach and know-how (correlation between meter data and other inputs with transformer health and performance) that allows them to support utilities in optimizing their grid to support EV charging and the EV transition overall. This allows the company to become the connective tissue between the mobility space and the energy grid.
We have a strong conviction that Rhythmos is well positioned for tremendous success in the energy market, primarily due to their innovative asset-light approach and the expertise of their well-rounded team. Their 'no-hardware' model sets them apart from their competitors and provides a distinct advantage in this complex industry. The combination of unique insights, a highly skilled team, and an exceptional product places Rhythmos as the frontrunner in the race. We are very excited to partner with such a talented management team and eagerly look forward to joining them on their journey to reshape mobility.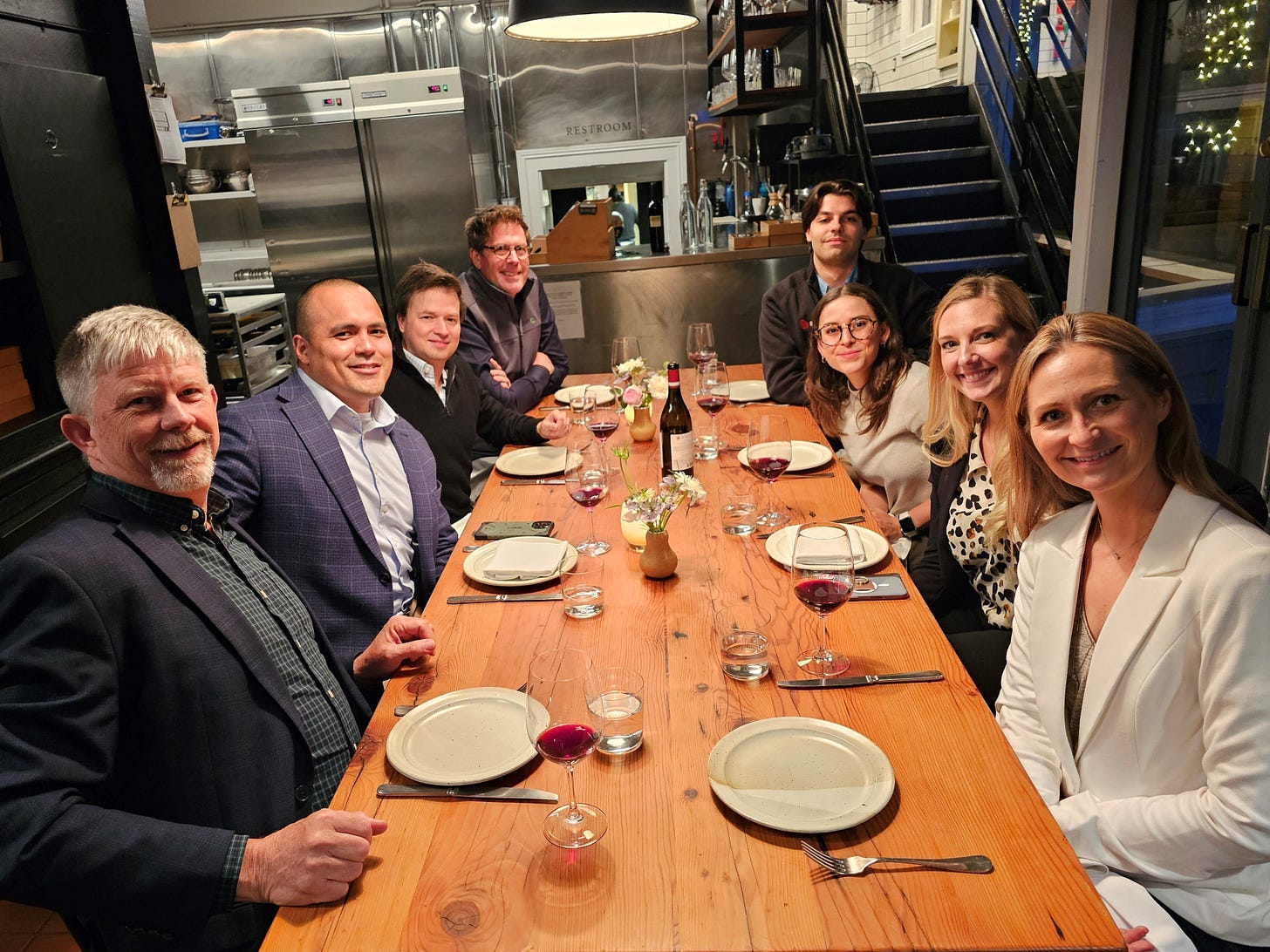 From left to right: Mark, Remington, Enrique, Ken, Horacio, Cecilia, Elaine, and Stefanie
Portfolio news
⚡️ Congrats to DriveU.auto for releasing the Autonomous Vehicle Teleoperation Taxonomy, a great initiative with the purpose of introducing more structure into discussions about critical elements in autonomous fleet operation.
⚡️ We are thrilled to announce Joyride's new financing program which is exclusively for micromobility operators aimed at removing one of the biggest barriers to growth and expansion. By offering affordable and flexible financing solutions, operators gain access to the funds needed to support fleet expansion.
⚡️ Amazing news! ONOMOTION has been recognized by Interbrand as a Breakthrough Brand disrupting the global market. This award recognizes Brands with sharper identities, that are looking to engage with customers in the new world of AI and the metaverse and working in new ways to differentiate themselves in a crowded market.
Interesting Reads
🔍 Platform Disruption: Reshaping the VC Landscape
The Law of the Minimum states that the growth of a plant or crop will always be limited by the essential nutrient available at the lowest amount. Even when all other essential nutrients are abundant, the deficient nutrient will dictate growth.
This law, formulated by botanist Carol Spregnel, can be applied to the growth of a startup. If a company possesses sufficient funds and a viable business model but lacks a strong team, the latter will likely hinder the startup's growth. Venture capital (VC) firms have recognized the untapped potential in terms of the value they can add to their portfolio startups. Consequently, a new vertical within VC firms across various sizes and geographies has emerged and garnered increasing attention: the Platform.
So, why do we believe that a VC Platform plays a crucial role? According to research conducted by the VC Platform Global community and Zendesk in 2019, "VC firms with a dedicated Platform Team have achieved a 1,100 basis point improvement in net IRR compared to firms without a Platform over the last decade." Conversely, entrepreneurs now expect more from VC firms in terms of value added. Entrepreneurs define value as having sector expertise, understanding a founder's business and needs, and providing empathy in mentorship and guidance, among other factors.
Platform teams can contribute value across wide-ranging areas, including marketing, human resources, go-to-market strategies, and sales efficiencies. Support can be delivered through on-demand requests or specific strategic projects. VC firms have the flexibility to determine the size, dedication, and structure of their platform teams. Among the various possibilities, a critical aspect to define is the level of involvement a VC firm has while adding value. While there is no one-size-fits-all approach, we have identified three potential configurations:

Building a startup is like learning to ride a bike – you rely on others to prevent from falling
Twin Bicycle: VC Platform teams assign in-house human resources to their portfolio companies. Similar to a twin bicycle, both the startup and the VC Platform team actively engage in executing projects, fulfilling requests, and enhancing business model components.
Learning to Ride: Resembling the balance-to-pedal bikes used by children when learning to ride with their parents, we have identified firms that add value to startups by serving as side-support wheels. They allocate resources (human, time, know-how) and provide guidance, akin to co-riding the bicycle's handlebar, offering direction.
Bicycle Manual: Some firms prefer a do-it-yourself approach, where Platform teams offer guidance, advice, and connections. However, the startup retains full accountability for execution.
As we can see, approaches vary wildly and there is no definitive answer as to what is right or wrong. However, it is evident that VC firms are trying to provide more than just capital to their portcos, and on the other hand, entrepreneurs are expecting more from their partners. However, we need to keep in mind that the role of the VC firm is not to execute, but to be the right partner to the founding teams that they are backing. Challenging, pushing, and guiding the team, but letting them execute on their vision, which is what attracted the VC firm to invest in the first place.
With this said, we at Proeza Ventures want to ensure we deliver capital with capability and have been working hard over the last year to build our PV Platform team. We are committed to keep exploring the space to add value not only to our portfolio but also to the VC community in general.
Some deals we found interesting
🚀Alvys, a California-based end-to-end operating system for middle-mile logistics companies with a laser focus on carriers, announced a $6.3M seed round led by Bonfire Ventures, with participation from RTP Global and strategic angel investors. (22.Jun.23)
🚀Bluedot, a San Francisco-based EV charging payments platform, raised $5M in funding with Y Combinator, Leap Forward, Operator Stack, LACI Impact Fund, Caffeinated Capital, Ford Driventure, ScaleX, and other angels. (29.Jun.23)
🚀Cargobot, a Miami-based international digital freight company that connects shippers and carriers via its robust, data-driven platform, announced a $6M Series A funding round led by BPBI and joined by majority investor Total Management 2 as well as Transborder S.A.S. (21.Jun.23)
🚀ChipFlow, a U.K.-based open-source semiconductor chip design platform, raised $1.5M in pre-seed funding. Fontinalis Partners led the round and was joined by Fuel Ventures, InMotion Ventures, APX, and others. (7.Jul.23)
🚀Colonia Technologies, a German logistics start-up has raised a Seed round of €6 million. The round was led by Octopus Ventures and includes vent.io, Plug and Play, MobilityFund, Atlantic Labs, Hoyer, and existing investor Atlantic Labs. (26.Jun.23)
🚀Moova, an Argentina-based same and next-day delivery technology that delivers capacity for logistics and courier companies through AI, ensuring the most efficient routes, saving time and costs, close a $5M round with Toyota Tsusho Corporation, FJ Labs, Alaya Capital, Galicia Ventures, Aybe Investments, Kalei Opportunities, Wayra, and other private investors. (27.Jun.23)
🚀NoTraffic, a Palo Alto- and Tel Aviv-based mobility platform, raised $50M in Series B funding. M&G Investments led the round and was joined by VNV Global, UMC Capital, Grove Ventures, Vektor Partners, Next Gear Ventures, and North First Ventures. (27.Jun.23)
🚀Nuvocargo, an NYC-based USA-Mexico cross-border shipping startup, raised $36.5M in Series B funding at a $250M valuation led by QED investors. (27.Jun.23)
🚀Peach Cars, a Kenyan automotive marketplace announced a $5M seed round led by The University of Tokyo Edge Capital Partners and other angel investors. (15.Jun.23)
🚀Rose Rocket, a Toronto-based transportation management software provider for trucking companies and 3PLs, raised $38M in Series B funding. Scale Venture Partners led the round and was joined by Addition Capital, Shine Capital, Scale-Up Ventures, Funders Club, and Y-Combinator. (20.Jun.23)
🚀Service4Charger, a Berlin-based startup that installs, operates, and maintains EV charging infrastructure, raised €10M in a Series A funding round led by BP ventures. (28.Jun.23)
🚀Spakio, a Mexico-based start-up raised a $2M seed round with the participation of Variv, Liverpool Ventures, Cracks Fund, Xochi Ventures, CISA Ventures, and other angel investors. (23.Jun.23)
🚀Standard Fleet, a San Francisco-based electric vehicle fleet management platform, raised $7M in seed funding co-led by UP2398 and Canvas Ventures. (14.Jun.23)
🚀TELO Trucks, a California-based electric vehicle company, raised $1.4M in pre-seed funding. GoAhead Ventures led the round and was joined by Underdog Labs, WorkPlay Ventures, and other angels. (14.Jun.23)
🚀Vok Bikes an Estonian maker of eBikes for last mile deliveries raised €3.8M in Seed Funding including Estonia's SmartCap, Jaan Tallinn's Metaplanet, Specialist VC, Sunly, and a list of angel investors. (29.Jun.23)
🚀Yendo, a Dallas-based vehicle-secured credit card company, raised $24M in Series A funding. FPV Ventures led the round and was joined by Human Capital and Autotech Ventures. (21.Jun.23)
🚀Zuru raised a $680K pre-seed round led by Carabela VC. The company will use the funds to fuel its growth and serve more clients across Latin America. (29.Jun.23)
A piece of good news
🏳️‍🌈 In celebration of July's Pride Month, we commemorate the remarkable progress achieved by the LGBTQ+ community while acknowledging the ongoing efforts required to create a safer and more inclusive world for everyone. Positive statistics demonstrate advancements in various areas, such as legal protections (90+ regions against discrimination, 30+ countries recognizing same-sex relationships), growing societal acceptance (70%+ US support same-sex marriage, highlighting a positive trend of acceptance), improved media representation, and enhanced healthcare access. However, it is vital to recognize that persistent challenges remain and further work is needed to ensure a world where every individual, regardless of their sexual orientation or gender identity, feels safe, valued, and respected.
Where we've been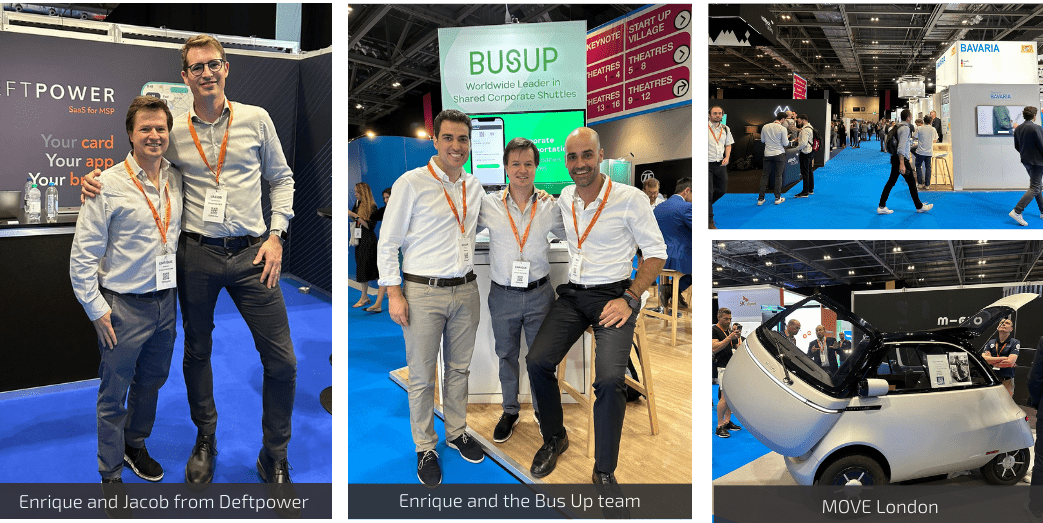 Where to find us next
🏎 Holman Emerge August 8 (New Jersey, US)
🏎Other events in the Mobility ecosystem
Work at our PortCos
👩🏻‍💻B2B Local Partner Marketing Lead – Ridepanda
👩🏻‍💻Senior Software Engineer – Ridepanda
👩🏻‍💻Electrical Engineer – Electric Era
👩🏻‍💻Head of Government Affairs – Electric Era
👩🏻‍💻Head of Policy and Grants – Electric Era
👩🏻‍💻Dealer Sucess Manager – Gauge
👩🏻‍💻Electrical Engineer – Lunewave
👩🏻‍💻Sr Electrical Engineer – Lunewave
👩🏻‍💻Product Manager/Rider Experience – Joyride