Welcome to the Paddock, your VIP access to unique insights from some of the best mobility founders out there and curated news and trends reshaping the mobility sector globally.
—Rodolfo, Enrique, Cecy, Karen, Horacio and Angela.
💡If you know of any startup that is also committed to #reshapingmobility by being more efficient, safer, and environmentally friendly reach us here.
🏁Come visit The Paddock to see the full portfolio of P.V. companies.
Welcome Vanessa!
💃We want to welcome our newest member, Vanessa Abundis, to the Proeza Ventures team!
Vanessa is passionate about helping startups grow and thrive. She has worked with early-stage startups (as Entrepreneur in Residence building startups from scratch) and with scaleups (consolidating their business model). Now, she is looking forward to exploring the non-entrepreneur side as an analyst on the investment team.
Portfolio news
⚡️We're thrilled to announce that Gauge launched the latest addition to its lineup – Boise, ID! With this new market, Gauge is ready to dive into the heart of Idaho and begin purchasing cars in this vibrant city. This remarkable expansion demonstrates Gauge's commitment to broadening its reach and revolutionizing the car-selling process.
⚡️Exciting news! Joyride's latest feature release creates a two-way street, catering to both riders and operators. Riders seek an exceptional experience, while operators desire new revenue opportunities and engagement avenues. With this update, micro-mobility managers gain access to powerful tools on the Joyride platform. They can now leverage pre-paid passes, open API connectivity, branded menu items, and instant push notifications.
⚡️Congratulations OnoMotion for their recent partnership with Fahrwerker braking systems, leading to the creation of exceptional products by using the most reliable and high-performing braking systems.
⚡️Congratulations Electric Era for expanding to 9 new states across America! By introducing PowerNode to several EV fast charging stations, the EE team is looking to provide EV drivers with the best charging experience using the leading most reliable technology.
PV LATAM Mobility Landscape
LATAM is widely recognized as a green field for global investors, and the mobility sector has become an exceptionally attractive investment space. Multiple startups have developed and deployed fascinating technologies to cater to untapped markets and create billion-dollar opportunities. In the following LATAM Mobility Landscape, we present the key fields and prominent players that are reshaping the region's mobility industry.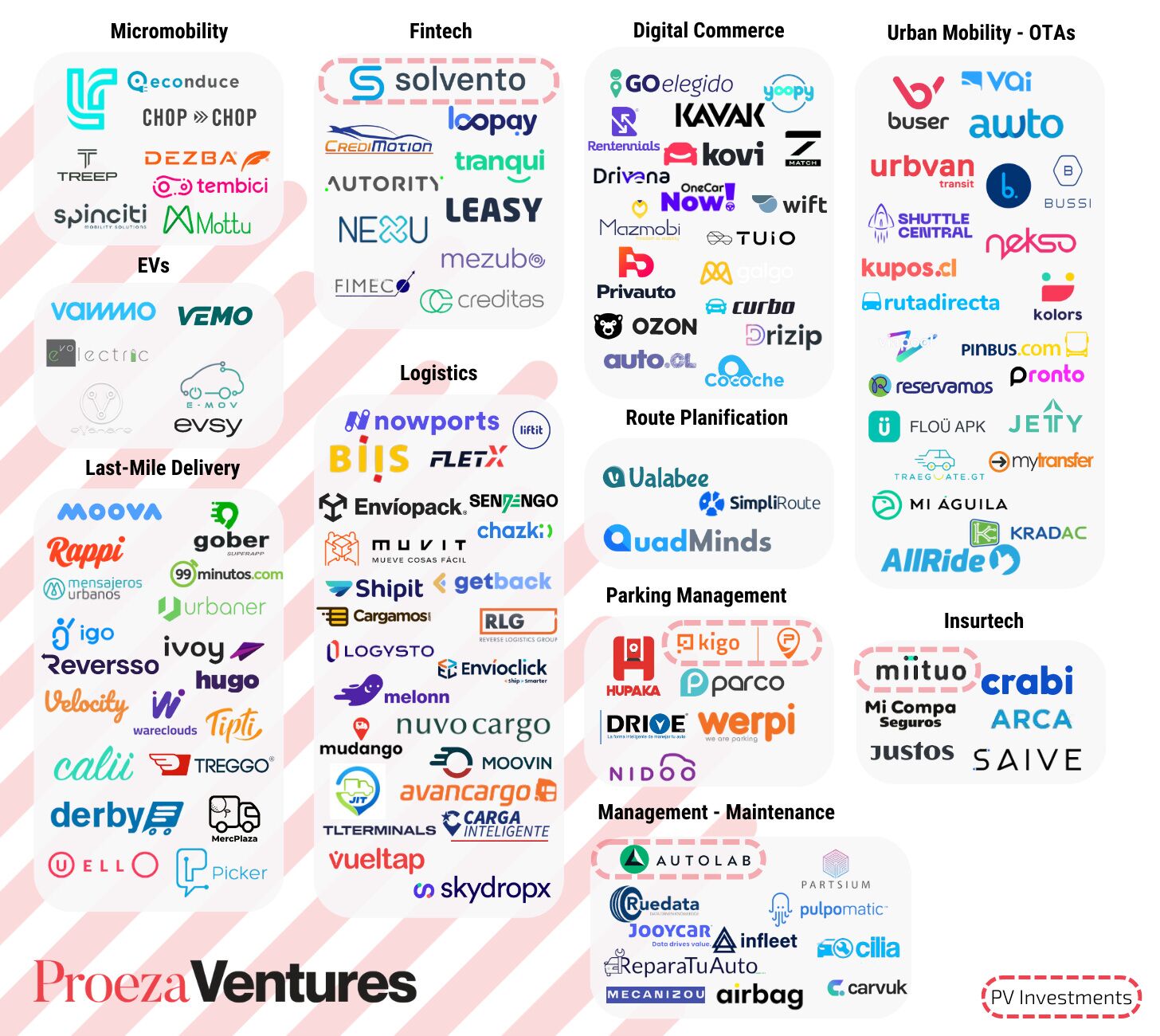 Interesting Reads
🔍In Honor of Last Month's Commemoration of the Bicycle: A Modern Icon of Evolution and Disruptive Technology.
The bicycle, with its rich history spanning several centuries, has truly evolved into an iconic mode of transportation. Its roots can be traced back to the late 17th century when the concept of a two-wheeled vehicle powered by human effort first emerged. In 1817, Karl Drais, a German inventor, introduced the "running machine," an early prototype featuring two wheels and a handlebar for steering – thus setting the foundation for future advancements in the field.
The introduction of pedals to the bicycle during the early 19th century marked a significant turning point. Inventors sought to enhance the Drais's design by allowing riders to propel the vehicle using their feet. It was in 1863 that Pierre Michaux unveiled the first practical pedal-powered bicycle, known as the "boneshaker." Aptly named, this early model provided a bone-jarring experience due to its iron tires, heavy wooden frame, and pedals attached to the front wheel.
Furthermore, the late 19th century witnessed remarkable progress in bicycle design, leading to the development of the revolutionary "safety bicycle." This groundbreaking design featured a diamond-shaped frame, equally sized wheels, and a chain drive connecting the pedals to the rear wheel. In 1885, John Kemp Starley, introduced the Rover Safety Bicycle, setting the gold standard for modern bicycles by using a chain-driven rear wheel, pneumatic rubber tires, and an efficient gear system.
As the 20th century unfolded, the evolution of the bicycle continued unabated. Lightweight steel – and later aluminum frames – replaced heavy materials, ushering in a new era of improved efficiency and maneuverability. In the 1930s, the introduction of derailleur gears revolutionized the cycling experience, allowing riders to seamlessly change gears, thus enhancing speed and adaptability. Consequently, a myriad of specialized bicycles emerged – starting the distinction between road and dirt that we see today.
In recent decades, technology has played a pivotal role in shaping the bicycle industry. The advent of carbon fiber frames revolutionized bicycle construction, offering a compelling combination of lightweight strength and durability. Electric bicycles, or e-bikes, gained widespread popularity, providing riders with assisted pedaling and increased speed, making cycling accessible to a broader audience. Additionally, the rise of bike-sharing programs and the development of cycling-friendly infrastructure in numerous cities have further propelled cycling as an environmentally sustainable mode of transportation.
Some deals we found interesting
🚀Airbag– a Mexico-based startup focused on reducing the problem of traffic accidents through software focused on drivers, raised $700K led by Impacta VC, with the participation of Carabela VC. (2.Jun.23)
🚀Brompton– a UK-based folding bike startup, raised £19M led by BGF. (15.May.23)
🚀CelLink– a California- based automotive wiring components startup, has received a conditional commitment for a $362M loan from the U.S. Department of Energy's Advanced Technology Vehicles Manufacturing loan program. (12.May.23)
🚀Chalo- an India- based raised $45M in a Series D funding round (and an additional $12 million in debt) led by Avataar Ventures, with participation from Lightrock India, WaterBridge Ventures, and Amit Singhal. (22.May.23)
🚀ClearMotion– a Boston-based leading software-defined chassis company revolutionizing the in-car experience, raised $32M, led by NewView Capital, Acadia Woods, BAI Capital, NIO Capital, Liberty Street, and others. (23.May.23)
🚀Driver Technologies– a New York-based mobility tech company, raised $6M in funding, co-led by IA Capital and CT Innovations and was joined by Liberty Mutual Strategic Ventures, State Auto Labs/Rev 1, The Social Entrepreneurs' Fund, ID8 Investments, C2 Ventures, and Kapor Capital. (8.Jun.23)
🚀Ethernovia– a California-based ethernet chip company, raised $64M in Series A funding, led by Porsche Automobile Holding SE (Porsche SE), Qualcomm Ventures, VentureTech Alliance, AMD Ventures, Western Digital Capital, Fall Line Capital, Taiwania Capital, ENEA Capital, and others. (15.May.23)
🚀Evsy– a Chile-based startup that installs electric charging terminals for automobiles, raised $2M led by Grupo Kaufmann. (12.May.23)
🚀Fernride– a Germany-based pioneer in the field of autonomous and electric trucks raised $31M in Series A funding round, led by 10x Founders, Promus Ventures, Fly Ventures, Speedinvest, and Push Ventures along with corporate investors, such as HHLA Next, DB Schenker via Schenker Ventures and Krone. (13.Jun.23)
🚀Galgo– a Chile-based fintech startup announced the acquisition of Crediorbe, a Colombian fintech focused on motorcycle credits, to boost its presence in the country. (4.May.23)
🚀Justos– a Brazil-based insurtech startup, raised $5.9M led by an anonymous major reinsurer, and MSR Capital also participated.(15.May.23)
🚀MatrixSpace– a Massachusetts-based leader in AI collaborative sensing solutions, raised $10M in Series A funding, led by Raptor Group, with the participation of Intel Capital. (7.Jun.23)
🚀Mundimoto– a Spain-based largest motorcycle marketplace in Europe, raised €10M in a financing round, led by Mutua Madrileña and Orilla Asset Management and the current partners of the company. (7.Jun.23)
🚀PartsTech– a Boston-based industry-leading B2B parts marketplace for the auto repair industry, raised $35M in Series C funding, led by OpenView. (18.May.23)
🚀Pebble Mobility– a California-based startup that aims to change the way people live and work on the road raised $13.6M in seed and Series A rounds, led by Lightspeed, Vision+ and UpHonest Capital. (13.Jun.23)
🚀PIONIX- a German-based leading pioneer in open-source software for the ecosystem around EV charging, raised €5M in a seed financing round, led by yabeo Impact AG and Pale blue dot, with the participation of Vireo Ventures, MobilityFund, and Axeleo Capital. (22.May.23)
🚀Shift5– an Arlington-based onboard data company raised $33M in a Series B round, led by Moore Strategic Ventures, Booz Allen Ventures, and JetBlue Ventures, with the participation of Teamworthy Ventures. (7.Jun.23)
🚀Spinframe– an Israel-based Provider of an Innovative Vehicle Monitoring Platform for Maritime and Land Supply Chains Checkpoints, raised $8M in financing round, led by ZIM. (17.May.23)
🚀Trucksters- a Spain-based road freight operator, raised $35.5M in a Series B round, led by Volvo Group, the European Investment Bank and Spain's FondICO, with the participation of existing investors Amplifier VC, Metavallon VC, Big Sur Ventures, Bonsai Partners, Kibo Ventures, and The Valley VC as well as Glovo co-founder Sacha Michaud. (12.Jun.23)
🚀UVeye– a New Jersey-based pioneer in the development of automated vehicle inspection systems for the auto industry, raised $100M in a Series D funding round, led by Hanaco VC, with the participation of existing investors GM Ventures, CarMax, W.R. Berkley Corporation, F.I.T. Ventures L.P., and Israeli institutional investors. (9.May.23)
🚀Voltfang– an Aachen-based climate tech start-up raised €5M, led by PT1 – PropTech1 Ventures, Helen Ventures, Aurum Impact, Eviny, and the existing investor AENU. (10.May.23)
🚀Wift– a Chile-based startup that focuses on making the experience of buying and using a car easier for people, raised $2M led by Chile Ventures, Morro Ventures, and Inversiones Consolidadas. (2.Jun.23)
A piece of good news
🌎Children laugh an average of 300 times a day, while adults laugh an average of 17 times. As we grow older, life can get a little more serious. But laughter is still an important part of a healthy lifestyle. So let's all make an effort to laugh more often!
Where we've been

Where to find us next
🏎MOVE June 21-22 (London, UK)
🏎Other events in the Mobility ecosystem
Work at our PortCos
👩🏻‍💻Head of Marketing – Ridepanda
👩🏻‍💻B2B Partner Marketing Manager – Ridepanda
👩🏻‍💻Chief of Staff – Ridepanda
👩🏻‍💻Senior Software Engineer – Ridepanda
👩🏻‍💻Finances and HR Manager – Electric Era
👩🏻‍💻Providers Executive Madrid – Busup
👩🏻‍💻Web Technical Support Barcelona – Busup
👩🏻‍💻Software Engineer Manager Barcelona – Busup
👩🏻‍💻Sales Development Representative – Busup (CDMX)
👩🏻‍💻Sales Account Executive – Gauge