Welcome to the Paddock, your VIP access to unique insights from some of the best mobility founders out there and curated news and trends reshaping the mobility sector globally.
—Rodolfo, Enrique, Cecy, Horacio and Bernardo.
💡If you know of any startup that is also committed to #reshapingmobility by being more efficient, safer, and environmentally friendly reach us here.
🏁Come visit The Paddock to see the full portfolio of P.V. companies.
Welcome Bernardo!
🕺We want to welcome our newest member, Bernardo Garza, to the Proeza Ventures team!
Bernardo has previous experience evaluating new business models and building strategic plans across different industries like retail and banking, as well as working on footprint expansion strategy. He is excited to be part of the VC ecosystem as an analyst on the team.
Portfolio news
⚡️ SpaceX alums say they'll bring rocket reliability to EV charging. Congratulations Electric Era for closing a $11.5 million Series A round with the addition of outstanding partners, including HSBC Climatetech Venture Fund and SQM Lithium Ventures. With this raise, Electric Era is poised to make a substantial impact in the energy industry and we're excited to be part of their success.
⚡️ Congratulations Autolab for this $4 million fundraising round led by Vertical Venture Partners and Haven Ventures with the participation of Interplay, Polymath Ventures, Bullpen Capital, and ourselves. We're thrilled to keep supporting Autolab's journey and growth as they reshape LATAM's mobility.
⚡️ Exciting news! DriveU.auto is a finalist for the Automotive News PACE™ Award! The PACE Award is widely recognized in the global automotive industry for identifying and celebrating the most recent game-changing innovations, spanning from the plant floor to the product itself, all the way to the showroom floor. This year, DriveU.auto earned its spot as a finalist, thanks to its critical role in teleoperation for wide-scale AV deployments and the necessity for teleoperation-grade connectivity.
⚡️From Ontario to Arkansas, kudos to Joyride for their ongoing collaboration in Bentonville. Here, innovative companies and advocates align with Joyride's mission to accelerate the transition to more sustainable, electric mobility—not only locally but also across borders and around the world.
PV Canada's Mobility Landscape
Looking North! With its market-oriented economic system, high quality of life, and proximity to the US, Canada has emerged as an attractive destination for both local and foreign talent. Today, Canada is considered one of the best countries to create and grow businesses, primarily due to the incentives and the nation's friendly approach to startups, exemplified by companies like the e-commerce giant Shopify and our Toronto-based PORTCO Joyride. To showcase the top players within the mobility space, we present Canada's Mobility Landscape by Region below.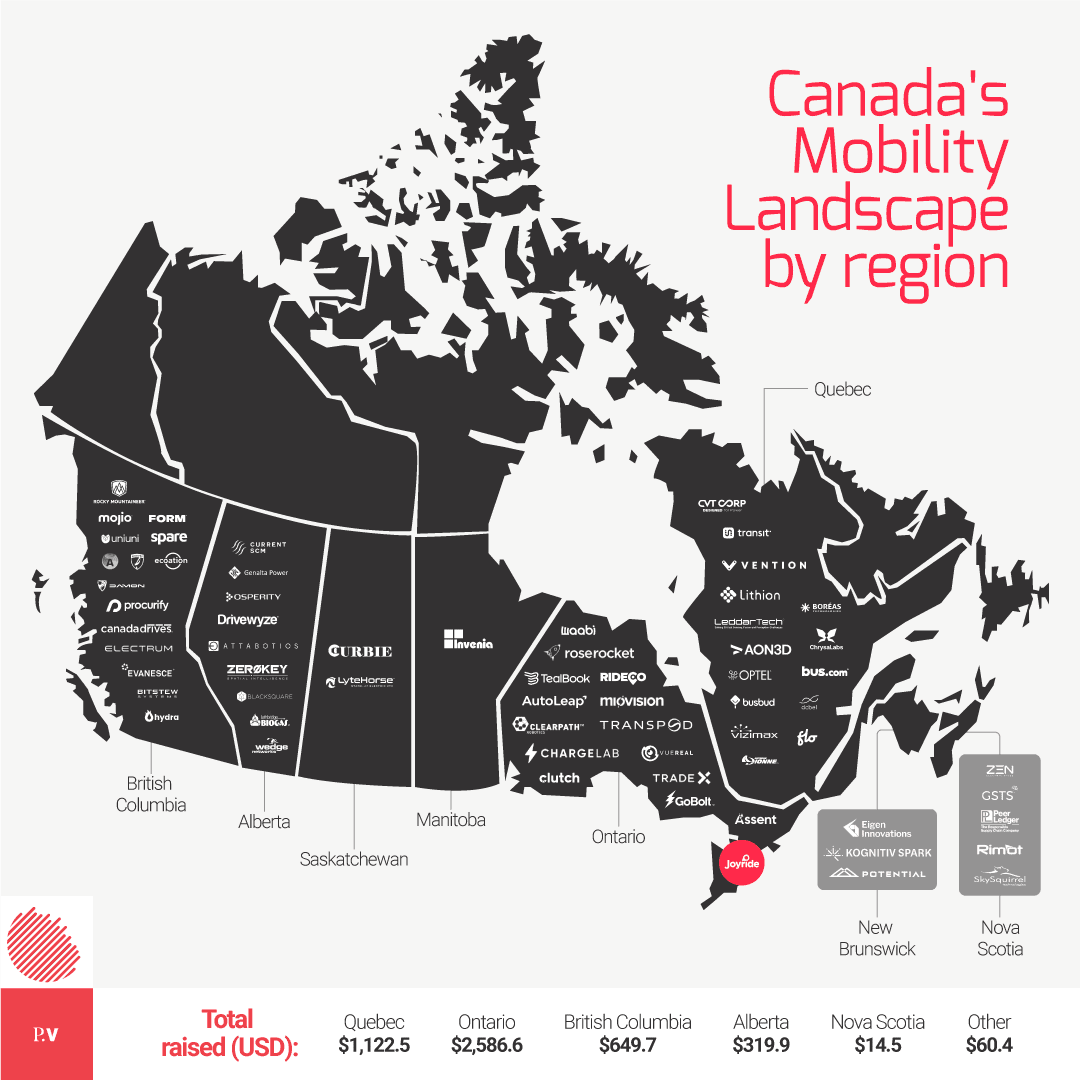 Interesting Reads
🔍 Uber is profitable — because you are paying too much for your rides.
A couple of weeks ago, Uber finally reported a positive operating profit in the second quarter of 2023, revealing the light at the end of the tunnel for the ridesharing market. However, what does this truly mean? Uber has emerged as a dominant leader in this industry, investing millions of dollars before becoming profitable, but there's another side to the story.
An experiment conducted by Bliq, comparing Uber to its competitors, Bolt and FREE NOW in Berlin, reveals that Uber tends to have higher prices in 9 out of 10 trips and slower pick-up times in 7 out of 10 cases. Additionally, frequent surge pricing negatively impacts both passengers, who end up paying more, and drivers, who face unpredictable earnings. This situation persists not because the service justifies the cost but due to the lack of viable alternatives to Uber and its primary competitors.
Uber serves as a significant example of a tech-driven company reshaping mobility, but it's crucial to question their practices to maintain a fair ecosystem. It's widely recognized that the scarcity of alternatives limits options for both passengers and drivers. In the case of drivers, who are the backbone of the system, they often rely on peak pricing to make their work financially viable, as algorithmic pricing makes income prediction difficult.
We invite you to look at Bliq's full report about Uber's monopoly and the urgent fairness in the not-so-sharing ridesharing market.
Some deals we found interesting
🚀Accure, a German startup that uses AI, field data, and modeling to detect irregular lithium-ion battery cell behavior and provide EV operators with advance warning about impending issues, raised a $7.8 million round co-led by Bear Capital and HSBC Asset Management, with Capnamic Ventures and Riverstone Holdings also investing. (22. Aug. 23)
🚀Altos Radar, a California-based automotive radar startup has raised a $3.5 million seed round led by investors including ZhenFund and Monad Ventures. (14. Aug.23)
🚀Cafler, a Barcelona-based company for on-demand car services, has raised €8 million in a round led by Seaya Ventures and Wayra. (6 . Sept. 23)
🚀Driveblocks, a Munich-based technology start-up has successfully closed a €2.2 million seed funding round. The round was led by Rethink Ventures and Bayern Kapital, with angel investor Joachim Drees and existing investor Friedrich & Wagner Holding also participating. (12. Sept. 23)
🚀ElectroTempo, an Arlington-based company, whose software predicts the demand for EV charging at sites and makes recommendations for equipment and infrastructure investments, raised a $4 million seed round led by Buoyant Ventures, with Schematic Ventures and Zebox Ventures also pitching in. (16. Aug. 23)
🚀e-mobilio, a Munich-based electric vehicle recommendation and buying platform, raises €9.5 million Series A led by SET Ventures for expansion into the European EV market. (5. Sept. 23)
🚀Frota 162, a Brazilian-based fleet management platform that manages infractions, fines, drivers, and vehicle debts, has received a R$3 million investment, which will support the brand's growth and improve customer experience. The investment was made by Ace Ventures, with participation from the Fundo Soberano do Espírito Santo and Venture Hub. (4. Sept. 23)
🚀Goodhood, a Michigan-based subscription-first tech startup revolutionizing the car care experience, has raised $2.6 million in seed funding with the help of key investors like Bullish and Dallas-based Impact Ventures. (12. Jul.23)
🚀GoCar, an Ireland-based vehicle-sharing services company, announced an investment of €10 million in the expansion and enhancement of its current services across Ireland. The investment is part of GoCar's commitment to providing sustainable and convenient mobility solutions to meet growing customer demand for alternative transport options to private vehicle ownership. (30. Aug. 23)
🚀Helm.ai, a California-based provider of next-generation AI software for autonomous driving and automation of robotics, today announced it raised $55 million in its Series C financing. The round was led by Freeman Group and also includes investments from venture capital firms ACVC Partners and Amplo as well as strategic investments from Honda Motor, Goodyear Ventures, and Sungwoo Hitech. (16. Aug. 23)
🚀Kite Mobility, a Canada-based startup secures $3.5 million in capital, to accelerate growth and continue leading the private electric vehicle rideshare market. In addition to a follow-on investment from Good & Well, strategic investment from Enlightened Building Technologies Inc. (Enlightened), and, as a historic first – a Canada-wide co-investment by TAF (The Atmospheric Fund), Alberta Eco Trust (AEF), The Greater Montreal Climate Fund (FCGM), and members of Low Carbon Cities Canada (LC3), a collaborative network accelerating equitable climate solutions across Canada. (29. Aug. 23)
🚀LAND, a Cleveland-based electric mobility and battery manufacturer announces the close of a successful Series A round. (6 . Sept. 23)
🚀Robomart, a Los Angeles startup that is developing a self-driving vehicle for the purposes of delivering a cross-section of a store directly to consumers, raised $2 million in seed funding led by W Ventures, with Wasabi Ventures, SOSV/HAX, and Hustle Fund also pitching in. (14. Aug. 23)
🚀Olis Robotics, a Seattle-based company that helps operators monitor and manage robots remotely from anywhere via any browser-capable device, raised a $4.1 million round led by PSL Ventures, with Tectronic Ventures and Ubiquity Ventures also joining in. (14. Aug. 23)
🚀Zeelo, a London startup that helps organizations operate and optimize their transportation programs, raised a $14 million Series A extension round led by FlatzHoffmann, with IREON Ventures also investing. (15. Aug. 23)
A piece of good news
🌎 Unlimited clean energy? MAPLE, A space solar power prototype has demonstrated its ability to wirelessly beam power through space and direct a detectable amount of energy toward Earth for the first time. The experiment proves the viability of tapping into a near-limitless supply of power in the form of energy from the sun from space. The wireless power transfer was achieved by the Microwave Array for Power-transfer Low-orbit Experiment (MAPLE), an array of flexible and lightweight microwave power transmitters. Co-Director of the Space-Based Solar Power Project, Dr. Ali Hajimir, explained how the wireless transmission of energy through space is based on a quantum phenomenon called "interference." "In the same way that the internet democratized access to information, we hope that wireless energy transfer democratizes access to energy," Hajimiri concluded. "No energy transmission infrastructure will be needed on the ground to receive this power. That means we can send energy to remote regions and areas devastated by war or natural disaster."
Where we've been

Where to find us next
🏎FEMSA Ventures Day. (20. Sept.23)
🏎Other events in the Mobility ecosystem
Work at our PortCos
👩🏻‍💻Electrical Engineer – Electric Era
👩🏻‍💻Account Executive – Electric Era
👩🏻‍💻Engineer, Site Implementation- Electric Era
👩🏻‍💻Software Engineer – Electric Era
👩🏻‍💻Business Operations Analyst – BusUp
👩🏻‍💻SDR – BusUp
👩🏻‍💻Sales Account Executive – Gauge
👩🏻‍💻Product Manager/Rider Experience – Joyride
👩🏻‍💻Product Designer – Joyride
👩🏻‍💻Especialista en CRM – Autolab
👩🏻‍💻Head of WorldWide Sales – Ottometric
👩🏻‍💻Senior Front End Developer – Ottometric
👩🏻‍💻Produkt Entwicklungsingenieur (w/m/d) eMobility Bike – ONOMOTION
👩🏻‍💻Servicetechniker im Außendienst (w/m/d) – Berlin – ONOMOTION
👩🏻‍💻Senior Flutter Developer (m/f/d) – Bliq