Issue 003 | By Proeza Ventures

October 13, 2022
Welcome to the Paddock, your VIP access to unique insights from some of the best mobility founders out there and curated news and trends reshaping the mobility sector globally.
—Rodolfo, Enrique, Cecy, Karen, Horacio and Angela.
💡If you know of any startup that is also committed to #reshapingmobility by being more efficient, safer, and environmentally friendly reach us here.
🏁Come visit The Paddock to see the full portfolio of P.V companies.
⭐For you monthly dosis of mobility insights, subcribe here
Portfolio news
⚡️Congratulation to Joyride on launching its Delivery-as-a-Service product, an operating delivery fleet that helps micromobility fleet owners manage delivery vehicles leased to gig workers. The DaaS service includes software, hardware and support.
⚡️Bluedot is an end-to-end customer arrival platform focused on helping businesses win in mobile order pickup, frictionless drive-thrus, and loyalty and proximity messaging. Their latest study, Holiday Shopping Habits 2022, surveyed 1,500 Americans to reveal the ways inflation and rising prices have impacted consumer behaviors and sentiments.
⚡️Xos Trucks delivered 88 units in Q3 of 2022—up 21% over Q2! The units were delivered to return customer Merchants Fleet and multiple FedEx Ground Operators across 15 North American cities. The deliveries put Xos on track to achieve its second half of 2022 guidance of 150 to 200 total units delivered.
⚡️OnoMotion has opened its new location, further expanding its leadership role as one of Germany's largest e-cargo bike manufacturers.
⚡️Big congrats to Electric Era for being ranked in the top 41 Energy Storage funded companies in the United States.

Interesting Reads
🔍 It's Time for Cities to Ditch Delivery Trucks—for Cargo Bikes
Urban last-mile delivery emissions are on track to increase by over 30% by 2030 in the top 100 cities globally. Without intervention, these emissions could reach 25 million tons of CO2 emitted annually by that date. Along with increased carbon emissions, traffic congestion is expected to rise by over 21 percent, the equivalent of adding 11 minutes to each passenger's daily commute. Thankfully, many companies around the world – such as Amazon, UPS, DHL, Fedex – and legislators across countries and cities (see NYC and Seattle), are pushing for more efficient and greener means to deliver goods to our homes as (over) consumption habits have become a stable in our lives.
eCargo bikes provide a better alternative to delivering goods in urban centers as they reduce air and noise pollution while doing so in an efficient manner. Having said this, more work needs to be done to get the right infrastructure in place, both in terms of bike lanes and urban distribution hubs from which to deliver goods, in order for the all-in TCO to be appealing to logistics companies (see how our portco Ono is contributing to this).
In our mind, cargo bikes will experience tremendous growth as the need for more sustainable and cleaner transport alternatives, coupled with more stringent regulations, add pressure to all players in the logistics space to act quickly. It will only be a matter of time, particularly in Europe, where cargo bikes will become so ubiquitous that they'll photobomb our summer photo albums.
🔍Why You Should Buy an E-bike Instead of an Electric Vehicle
This article strongly advocates for buying an e-bike instead of an EV. It is an interesting suggestion, in which we agree up to a certain point. At PV, we are firm believers that e-bikes and other micromobility vehicles are becoming an important transportation alternative. Riding e-bikes to run errands and short distance commutes (6 miles or less) makes sense. It is not only an enjoyable activity with health benefits, but most importantly, it helps reduce traffic congestion & liberates parking space, it is a cost-effective transportation alternative and more sustainable.
Owning and using an e-bike has a positive impact on an individual's wallet. For starters, even a high-end e-bike that is priced at $6,000, is substantially cheaper than a Tesla 3, which starts at around $49,000. Plus, you get the benefit of a lower electricity bill, estimated to be a little over $50 annually even when riding the bike every day, and lower operating costs (including charging), of around $500 a year. Transportation is the biggest source of carbon emissions and switching to e-bikes is the most efficient and quickest way of reducing our carbon footprint. According to the article, an e-bike is 12 to 18x more efficient than a Tesla on a per mile-basis. An e-bike ridden 2,000 miles a year has an LCA (Life Cycle Assessment) of about 10-15g/mile if it lasts 10 years on the original battery, frame, and motor vs 120-180g/mile for a Tesla.
Having said this, e-bikes are not ideal for all and every situation, such as taking a road trip or when you must transport heavy and large items. Furthermore, we are well aware that biking infrastructure in the city has a big impact on ebike adoption. The good thing is that cities like Paris, Berlin, Austin, Montreal and Milan are investing in making their cities more bike friendly. Overall, even when using e-bikes only for 1/3 of our daily trips, the impact on the environment, our cities and well-being is huge. There is a reason e-bikes have outsold EVs in the US for the past two years.
And we have backed up these thoughts with two investments: Ridepanda and Ono. Ridepanda is increasing the adoption of micromobility products by offering subscription of micromobility vehicles as a commuter benefit by partnering with corporates. Ono is enabling more efficient parcel deliveries through what we believe is the best e-cargo bike in the market
🔍The Next Big Battle Between Google and Apple Is for the Soul of Your Car
Two weeks ago, we heard a founder say "The difference between Tesla and other OEMs, is that Tesla first built a computer and then placed wheels on it, compared to traditional OEMs which are trying to do it the other way around." We can see where that statement is coming from, we see in our day-to-day startups developing solutions mimicking Tesla features for traditional OEMs. These new solutions although innovative most of them are connected through APIs, and sometimes that makes it hard to nail the UX versus if it was embedded.
As the article explains, OEMs are navigating to find the sweet spot between developing in-house or acquiring those capabilities to speed up the process of software development. In our opinion, if OEMs agree to add Apple o Google operating systems, they risk staying cataloged as a traditional manufacturer. But instead on focusing on infotainment development which in our opinion is a lost battle, they could use those resources in other developments and improve the driving experience. The organic integration to drivers' day-to-day life with Apple or Android is something hard to compete with.
It's always fun to imagine the future. What would you consider when choosing between Android or Apple when evaluating your options for your new car, or any other independent OS (like Renovo)? Do you see OEMs partnering with each other to develop an OS of their own? If you have any thoughts on this, we'd love to hear them.
Some deals we found interesting
🚀Applied EV -an Australian- based automotive technology company raised $21 million led by Suzuki. (14. September.2022)
🚀Boundless Rider -a USA – based startup focused on cringing insurance innovation, rider centricity, and motorcycles, e-bikes, ATVs, UTVs, and snowmobiles providers, raised $4.75M in seed funding led by American Family Ventures, with participation from The Cross Country Group, SiriusPoint, and Belmont Capital. (21. September.2022)
🚀Carvuk -a Chile- based platform for scheduling automotive services. Among other services, they facilitate dent removal and painting raised $600K led by Platanus Ventures. (12. September.2022)
🚀Civ Robotics– a San Francisco- based startup whose robot performs autonomous surveying tasks for civil engineering and infrastructure projects such as solar farms, roadways, data centers, and power plants, raised a $5M seed round led by ff Venture Capital and Alley Robotics Ventures, with Trimble Ventures also chipping in. (22. September.2022)
🚀ClearMotion– a Boston- based startup that is using actuators and software to smooth out car rides as well as create an immersive 4D entertainment experience inside the car raised $39M led by Nio Capital. (7. September.2022)
🚀Denim– a New York-based fintech platform for freight and logistics formerly known as Axle Payments raised $126M in a Series B funding round led by Pelion Venture Partners with participation from Crosslink Capital, Anthemis, Trucks VC, FJ Labs, Tribeca Early Stage Partners and Refashiond Ventures at a "nine-figure" valuation. (15. September.2022)
🚀Foxglove -a San Francisco- based robotics development platform raised $15M in Series A funding led by Eclipse Ventures, and was joined by investors including Amplify Partners, Cruise co-founders Kyle Vogt and Daniel Kan, UC Berkeley's Pieter Abbeel, and others. (12. October. 2022)
🚀Halo Car– a Las Vegas-based startup that combines teleoperations and car sharing raised raised $5M in a seed round led by climate tech fund At One Ventures, with participation from T-Mobile Ventures, Earthshot Ventures and existing investor Boost VC. (5. October. 2022)
🚀Iontra Inc.– a Denver- based battery performance and safety technology company raised $38M Series B led by Volta Energy Technologies, LLC, with participation from Flag Group and other investors. (13. September. 2022)
🚀Gather AI– a Pittsburgh- based supply chain robotics company raised $10M Series A led by Tribeca Venture Partners, with participation from existing investors Xplorer Capital, Dundee Venture Capital, Expa, Bling Capital, XRC Labs and 99 tartans. (6. October.2022)
🚀Kopperfield– a Seattle- based EV charger installation company raised $5 million in seed funding led by General Catalyst's Hemant Taneja and Lachy Groom and were joined by investors including Giant Ventures, MCJ Collective, Shopify founder Tobi Lutke, and other angels. (27. September.2022)
🚀Lug+Carrie- a Melbourne- based eBike subscription startup raised $5M of Series A funding (4. October. 2022)
🚀Mvmnt– a Chicago- based freight brokerage technology startup raised $20M Series A led by Andreessen Horowitz with participation from Equal Ventures, Abstract Ventures, M25 and industry angels. (5. October.2022)
🚀 PandaGo– an Spain- based B2B EV renting marketplace raised €4.7M in funding led by Kibo Ventures and backed by Big Sur Ventures and JME Ventures. (26. September.2022)
🚀Papaya Technologies– a London- based electric fleet sourcing and management platform raised $3.5M in seed funding led by Giant Ventures, and were joined by investors including Seedcamp, 20VC, FJ Labs, Flexport, and Cocoa. (16. September.2022)
🚀Seoul Robotics– an Irvine CA-based company powering the future of autonomy through smart infrastructure raised $25M Series B funding, led by KB Investment. (22. September.2022)
🚀Solvento– a Mexico- based fintech company, part of our portfolio, raised $5M seed round led by Ironspring Ventures(5. October. 2022)
🚀Stable– a San Francisco- based EV charging data analysis platform raised $14M Series A led by Congruent Ventures with participation from Trucks, Ubiquity, E14, Ahoy and Upside Partnership. (14. September.2022)
🚀 TerraWatt– a San Francisco- based fleet focused electric vehicle charging solutions provider raised more than $1B led by Vision Ridge Partners. (13. September.2022)
🚀Wunder Mobility– a Hamburg- based vehicle sharing software group raised €12M led by KCK and Blumberg Capital. (6. October. 2022)
🚀Yardlink– a London – based startup whose supply chain management platform raised $17.5M Series A round led by Beringea, with additional participation from Amplifier and previous investors Speedinvest and FJ Labs. The company has raised a total of $19.9 million. (11.October. 2022)
Where we've been – Op-Ed MOVE America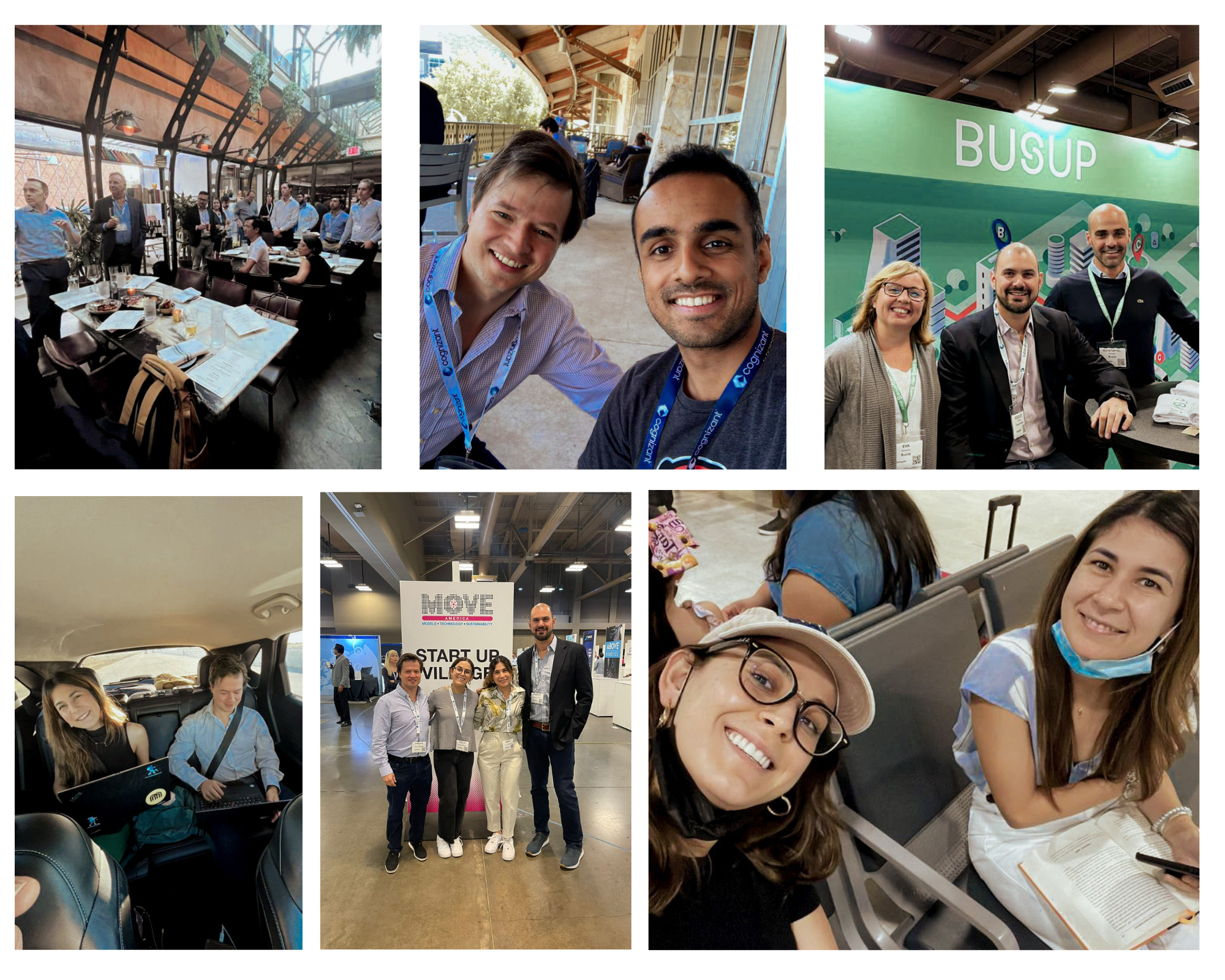 In September, the PV team adventured on a road trip (ride sharing this time, although not in an EV) to attend MOVE America in Austin. The event's ultimate goal is to promote and develop sustainable urban transportation.
The two-day event had 28 stages, +300 startups, and +150 exhibitors with the trendiest topics in the mobility space such as EVs, smart cities, energy and charging, bus transit, inclusive mobility, smart parking, payments, among others.
The topic we believe was the common denominator among almost all the participants was the multiple (software and hardware) flourishing players in the EV space and how they are increasingly intersecting with the energy industry. Seeing so many bullish stakeholders in the EV space just confirms our hypothesis that the EV revolution is here to stay and a multitude of services around it will continue to materialize (or maybe it's just our confirmation bias by hanging out with the same crazy crowd of EV enthusiasts).
Another topic we found very exciting, and that has gained traction in recent years, is inclusive mobility and ESG metrics. Seeing how companies are prioritizing these KPIs to commit themselves in reshaping mobility for everybody is huge and we believe will have a positive impact on public and private investments.
We were also amazed by the strong collaboration examples between cities, traffic, parking, and payments solutions to build a smart mobility ecosystem and bring novel solutions to citizens around the world. Enabling so many opportunities and getting the right orchestration between all these players has been a difficult task to achieve, however, as shown through different examples, it seems like everybody is starting to get on the same page.
And finally, it is always nice to attend these events to catch up with our portcos. We had the chance to meet Rui, BusUp's CEO, in person for the first time (for some of us at least) and listen in on his conference on "The Future of Commuting", and Chinmay, RidePanda's CEO, as he was part of the "Meet your sustainable goals with integrated commuting options" roundtable.
We are looking forward to the next edition of Move in London in 2023!
Where to find us next
🏎 Auto | Bonny Doon October 26.
🏎 Carmo October 26-27 (CDMX)
Follow our Tracks
🏁 LinkedIn
🏁 Twitter