Issue 009 | By Proeza Ventures

Welcome to the Paddock, your VIP access to unique insights from some of the best mobility founders out there and curated news and trends reshaping the mobility sector globally.
—Rodolfo, Enrique, Cecy, Karen, Horacio and Angela.
💡If you know of any startup that is also committed to #reshapingmobility by being more efficient, safer, and environmentally friendly reach us here.
🏁Come visit The Paddock to see the full portfolio of P.V companies.
Welcome Gauge!
Gauge is a tech-driven platform that enables car dealerships access to high-quality, inspected used cars through an auction process. By increasing the number of used cars available to dealerships and maximizing the market sale price for sellers through increased bids and improved price discovery, Gauge's innovative business model and proprietary technology offer clear value to both sides of the market. Thanks to their inspection process, Gauge has ensured that dealers can confidently purchase through them from any market in the US, just as they would at a traditional auction.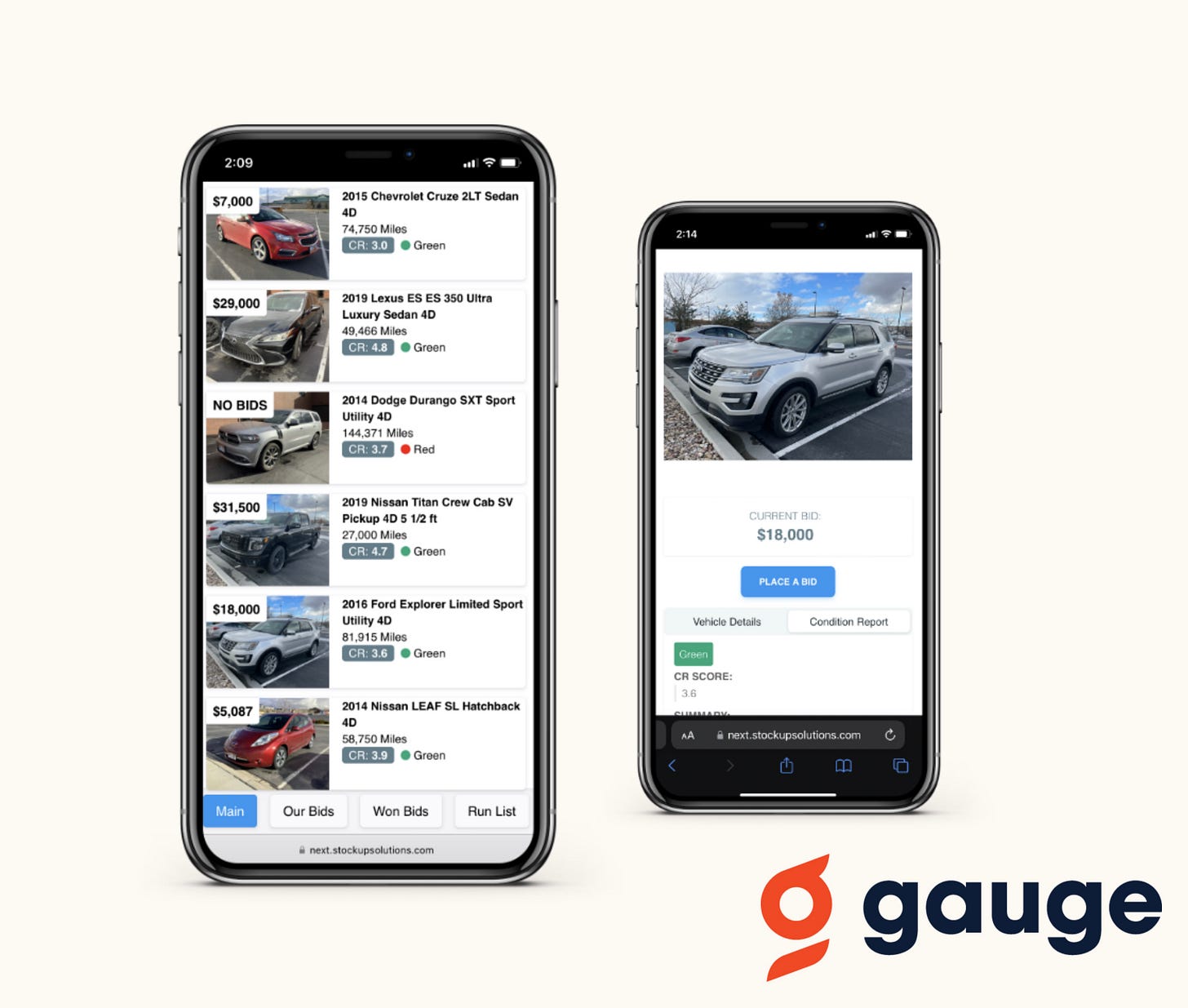 Why we invested
The market for used cars in the United States is by any standard larger than the one for new cars; to put it into perspective, roughly every three out of four cars sold in the country are used. The rising price of new vehicles and inventory shortages, which are induced by supply chain troubles, have only accelerated this trend. Coupled with the rise of digital players, whose new business models have rapidly disrupted a very old-school industry, we believe it is the right moment to partner with a business excelling in the space such as Gauge.
Some of the early darlings of the sector – think Carvana, Cazoo, Vroom made big waves with the way in which they managed to acquire and sell cars at scale; yet we believe that their asset-heavy business models, coupled with high customer acquisition costs, make for a challenging recipe.
Gauge, on the other hand, directly connects car owners willing to sell their vehicles with multiple institutional buyers – benefiting from the transaction without incurring inventory risk. Furthermore, car sellers get the best market price for their car – as multiple buyers bid on their vehicle – and institutional buyers get access to a reliable stream of used vehicles – a very coveted resource.
In short, we believe that Gauge is positioned to benefit from the tailwinds in the used car market and digitalization of the industry having the right alignment and incentives with both sellers and used-car buyers. Aided with a great technology stack, solid sales team, and an ambitious management team, Gauge is primed for success. We are very happy to partner with such a talented management team and join them in their journey!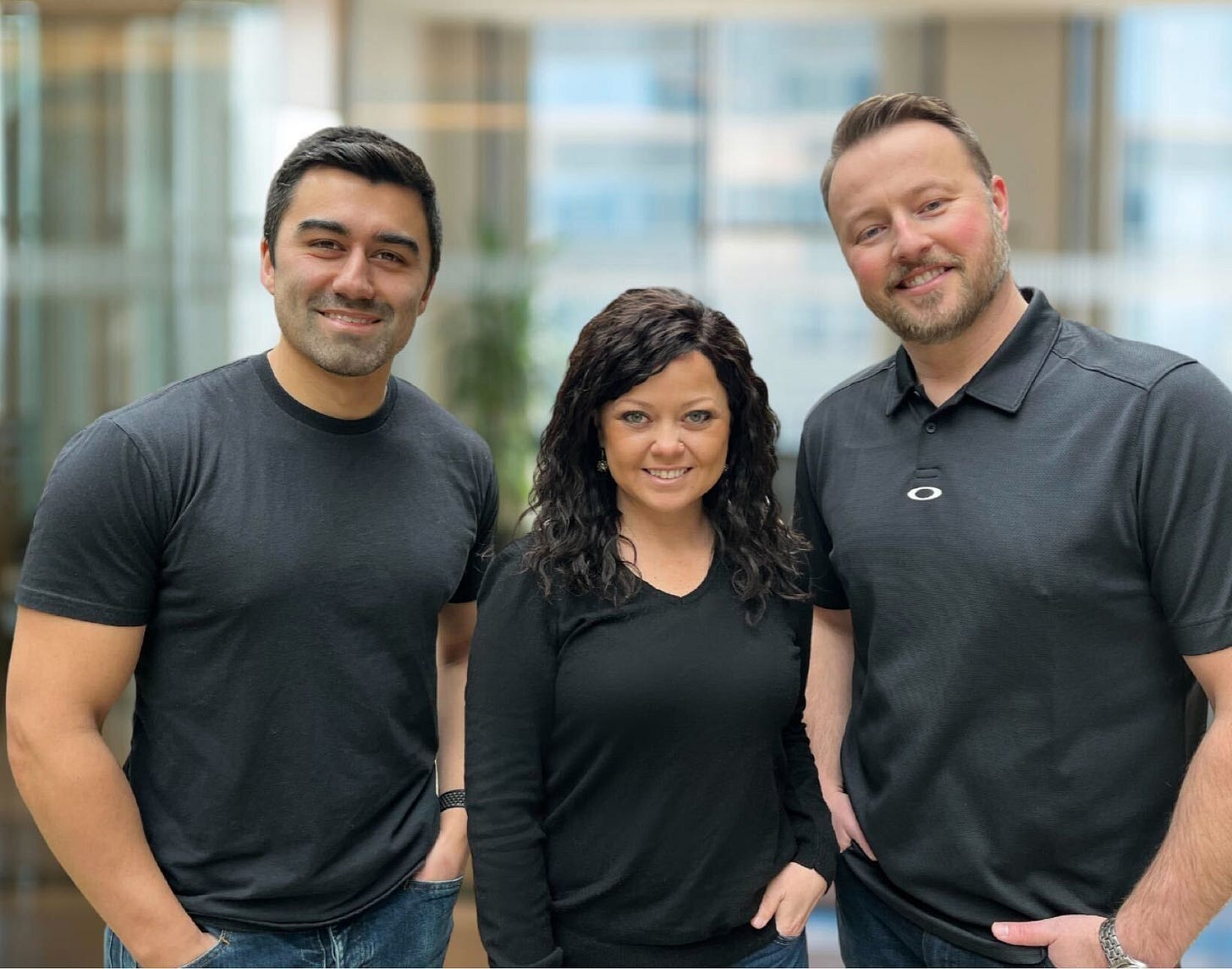 Portfolio news
⚡️We're thrilled to announce that Deftpower teamed up with Fisker Inc. to provide access to a top-notch European charging network through Fisker Flex! This partnership is a major step towards a more sustainable future and we couldn't be more excited to be a part of it!
⚡️Congratulations to Driveu.auto for successfully deploying their operation connectivity platform on the robot fleet of Goggo Network. By partnering with Goggo Network, Driveu.auto has further expanded the capabilities of its platform and ensured a superior and reliable delivery.
⚡️Lunewave continues to push the boundaries of what is possible in the field of automotive technology. Big congrats on the release of their latest upgrade and successful completion of two joint development projects with leading global OEMs.
⚡️Congratulations to Kigo-Parkimovil on the successful launch of their virtual parking meters in Panama, which will enable the payment and control of approximately 1,000 public parking spaces.
⚡️ Solvento had a great interview with Forbes, where they discussed how they are enabling a cash flow boost that the logistics industry was in desperate need of. Find it here
Interesting Reads
🔍The Amazonification of Buying a New Car
US online automobile sales grew 25% in 2021. In that same year, according to Statista, the global ecommerce automotive market was worth US$38 billion. However, the car industry is still in its infancy when compared to other goods sold online. Statista projects the global ecommerce automotive market to be worth US$176 billion by 2031, a 16% CAGR during that period.
Does this mean that the dealership model as we know it is coming to an end? Maybe the answer is yes and no.
The EV transition and Tesla's D2C example, as well as the pandemic, and the habit changes brought with it making us all feel more comfortable buying goods online, led to a new and easier way to buy cars from our living rooms. Other OEMs have taken notice and have at the very least asked their dealer network to step up their game (spending thousands of dollars to do site upgrades), and in other cases, issued not so friendly messages (from the dealer's standpoint) as to how they want the future of car selling to look like.
However, dealer groups play a very important role in the whole value chain and will most probably continue to do so. Some of them are not waiting around and have started investing in digital tools that allow them to digitize their inventory, enhance their lead funnel, lead conversion, and desking, automate their end-to-end sales process, and improve their overall workflows. Dealers own valuable real estate that will be used for test drives, closing deals, delivering vehicles, and more importantly, servicing them. Plus, not all drivers will feel comfortable closing a transaction fully online.
So, the answer, in our minds, is that dealer groups will have to adjust and learn as the industry embarks on a new dynamic with the EV transition and as OEMs continue to chase their everlasting goal of owning the customer relationship.
🔍Electric Vehicles Are Shattering the Barrier to Adoption that Could Matter Most
The tipping point for EV adoption is near. With recent price declines, the cost to buy and operate some EV's over several years is now roughly on par with their gasoline-power counterparts. EVs have a higher list price, but the gap is closing and EVs provide considerable savings on fuel and maintenance that can make up the difference in a 2-to-5-year period. One example is comparing the Mustang Mach-E, Ford's electric crossover SUV to a comparable gas-powered Toyota RAV4. The Mach-E would cost around $46,000 total if paid in cash while the RAV4 costs around $34,000. However, according to the article, considering a one-time $2,000 tax credit, the total ownership cost for operating a Mach-E for 5 years is $46,000 (including depreciation, insurance, fuel and maintenance costs), while the ownership cost of the RAV4 is estimated to be $45,000 at current gasoline prices.
The main driver of lower EV prices is the falling costs of batteries. In PV's experience, battery packs can represent up to 40% of the total cost of the vehicle. A few things have led to the reduction of battery costs. For starters, 1) economies of scale (20 million electric vehicles are projected to be sold in 2023) and 2) the accretion of countless technological improvements to the battery manufacturing process of the past decade.
In 2022, the price of a battery pack for an EV increased by 6.9%, in great part due to a spike in prices for critical components in the batteries used in most EVs, such as lithium, nickel and cobalt. This sparked fears that the EV revolution might face strong headwinds, however, a few things have happened since then. New supply of these critical materials has come online, lower demand of consumers, and the development and use of Iron-based batteries, known as LFP, have contributed to the reduction of EV battery pack prices. For further context, LFPs do not use metals such as nickel and cobalt, materials that had seen rapid price appreciation.
Lower EV price will be the main driver in accelerating EV adoption. As Mr. Musk succinctly put it, "The desire for people to own a Tesla is extremely high—the limiting factor is their ability to pay for a Tesla."
🔍How Mexico's Nuevo León State Landed Tesla's First Plant In Latin America.
Look, mom, I'm on TV! We feel pretty proud right now, and it's because everybody is talking about our hometown, the beautiful and always sunny Monterrey, Mexico. The home of the famous dish "cabrito" became a trending topic in the last couple of days thanks to the magnificent news about Tesla deciding to install their first gigafactory in LATAM just a few minutes away from the Topo Chico hill (yes, where the famous sparkling water was born).
Mexico is a well-known player in the automotive industry, we are the 7th largest vehicle manufacturer and the 4th largest exporter of auto parts in the world, having assembly lines and manufacturing powerhouses from all of the big boyz all around the country, like GM, Ford, Toyota, BMW, Mercedes, Audi, KIA, etc. Adding the EV leader, Tesla, to the list, is a huge step for the Mexican automotive cluster not only for economic purposes but also because it represents innovation and disruption.
Monterrey is one of the largest metropolitan areas in Mexico and Nuevo León is the 2nd state with the largest foreign investment in 2022, located in the north of the country we are just 250km away from Texas. Having this bet assures the geographical advantage and high-quality workforce that Mexico has to offer and also, helps us see that maybe the EV transition is not that far away.
So now we can explain a little bit better why we have a mobility core. Why we eat mobility for breakfast, lunch, and dinner like many other Mexicans in the country, and we are very proud to see such big stakeholders betting on our land and our people and we're sure we'll demonstrate again our Mexican power.
So, buckle up guys cause this is the first of many times you'll hear more from Monterrey, Mexico.
Some deals we found interesting
🚀Beryl– a London- based micro-mobility firm raised £2M in new funds, led by Frontier Development Capital. (20. Feb.2023)
🚀BlueCargo– a Los Angeles- based logistics SaaS platform that optimizes the entire container workflow from port to warehouse, raised $11M in new funding led by Soma Capital and Left Lane Capital. (23. Feb.2023)
🚀Carmoola– a British-Ukrainian- based car financing startup, raised £103.5M between a series A funding round and a new debt facility led by QED Investors and NatWest. (22. Feb.2023)
🚀Cylib– a Germany–based battery recycling startup revolutionizing the electric mobility industry, raised €8M in a seed extension round, led by World Fund, Europe's leading climate tech VC. (15. Feb.2023)
🚀Dance– a Berlin-based micro-EV subscription startup, raised an additional €12M in an equity and debt round led by existing investors HV Capital, Eurazeo and BlueYard. (16. Feb.2023)
🚀eDRV– a San Francisco-based API-first electric vehicle charging management solution, closed on a seed funding round led by Automotive Ventures, NP-Hard, and Connect Ventures. (17. Feb.2023)
🚀Electra Vehicles, Inc– a Boston-based a B2B company that provides AI-based software solutions to electric vehicles, electric fleets, and multiple battery-electric verticals, raised $21M in a round led by United Ventures with participation from Stellantis Ventures and existing investors.(22. Feb.2023)
🚀Erco Energía- a Medellin-based group of clean energy projects, raised US$30M led by Norfund. (20. Jan.2023)
🚀Flock– a London-based commercial fleet insurtech, raised $38M Series B funding, led by Octopus Ventures, and CommerzVentures, with the participation of Social Capital, Dig Ventures, Anthemis, and Foresight Ventures. (27. Feb.2023)
🚀Ghost Autonomy– a California-based company that is developing autonomous driving technology, raised a $45.4M round led by Khosla Ventures, Sutter Hill Ventures, Coatue, and Founders Fund. (7. Mar. 2023)
🚀Itselectric– a New York-based electric vehicle curbside charging company raised $2.2M pre-seed round, led by Brooklyn Bridge Ventures with participation from The Helm, XFactor, Graham & Walker, Clean Energy Venture Group, and Pericles. (7. Mar. 2023)
🚀 inDrive– a California-based mobility and urban services platform, raised $150M led by General Catalyst. (20. Feb.2023)
🚀LeftLane Software– Texas-based dealer management platform for independent car dealerships, raised $3.5M of seed funding from undisclosed investors.
🚀One Easy Stop– a Colombian-based last mile delivery service aggregator, raised $8M from undisclosed investors to expand to Mexico, Brazil and India. (9. Feb.2023)
🚀OpenEyes– an Israel-based insurtech company serving commercial automotive fleets, raised $18M in Series A funding led by global software investor Insight Partners and Pitango First, with participation by MoreVC. (15. Feb.2023)
🚀Planet42– a South Africa-based car subscription company that buys used cars from dealerships and rents to customers via a subscription model, raised $100M in equity and debt, led by Naspers, ARS Holdings, with participation from Rivonia Road Capital. (22. Feb.2023)
🚀Plus One Robotics– a Texas-based industrial automation firm raised $50M led by Scale Venture Partners, with participation from Top Tier Capital Partners, Tyche Partners and ROBO Global Ventures.
🚀Stratus Materials- a Pittsburg-based developer and manufacturer of next-generation cathode active materials for lithium-ion batteries, raised $12M Series A round, led by Breakthrough Energy Ventures, with participation from DNS Capital.(10. Feb.2023)
🚀Swap Robotics– a Ontario-based electric robots for Solar Vegetation Cutting & Snow Removal, raised $7M seed round led by SOLV Energy, which also features backing from SOSV's HAX division. (21. Feb.2023)
🚀Third Wave Automation– a California-based provider of high-reach autonomous forklifts, raised an additional $70M led by Qualcomm Ventures and Zebra Technologies. (15. Feb.2023)
🚀Transferz– a Amsterdam-based B2B mobility startup ,raised €6.5M, led by Jan de Jager and other undisclosed investors. (15. Feb.2023)
🚀Velotric– a San Francisco-based e-bike company, raised a $7.4M Series A funding round, led by Redpoint China Ventures, Fosun RZ Capital, Uphonest Capital, and Lime Cofounders Brad Bao and Toby Sun. (2. March.2023)
🚀Vend Park– a Boston-based digital parking solution, raised $3.8M in its Series Seed funding round, led by Floating Point Advisors. (23. Feb.2023)
🚀Viva– a London-based startup that deploys sensors in order to monitor traffic for municipalities, raised an $8.5M round, led by EnBW New Ventures, Foresight Group, and Gresham House Ventures.(15. Feb.2023)
Where we've been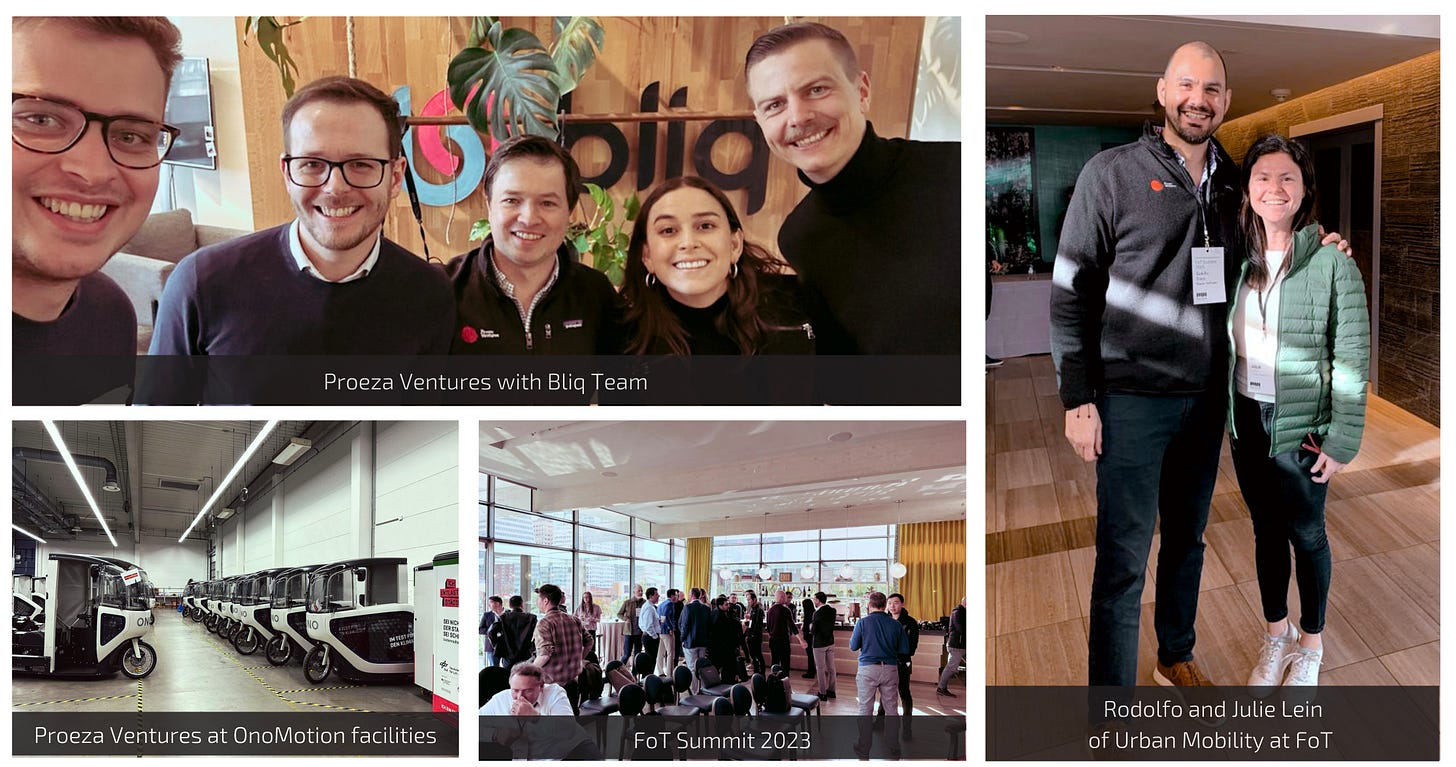 Where to find us next
🏎 EndeavAll Female Founder March 15 (Monterrey, MX)
🏎 Startup Olé March 26-27 (CDMX, MX)
🏎 Cumbre Amexcap March 28-29 (CDMX, MX)