Issue 008 | By Proeza Ventures

Feb 16
Welcome to the Paddock, your VIP access to unique insights from some of the best mobility founders out there and curated news and trends reshaping the mobility sector globally.
—Rodolfo, Enrique, Cecy, Karen, Horacio and Angela.
💡If you know of any startup that is also committed to #reshapingmobility by being more efficient, safer, and environmentally friendly reach us here.
🏁Come visit The Paddock to see the full portfolio of P.V companies.
Portfolio news
🚀Congratulations to the Ottometric team on successfully closing their Series Seed, securing $4.9M in funding. The round was led by Rally Ventures and supported by Proeza Ventures, Goodyear Ventures, Automotive Ventures, and other prominent mobility funds. We are thrilled to have played a part in this milestone and are honored to support Ottometric on their mission to develop the most effective validation software for ADAS.
⚡️Big congratulations to miituo on winning the Finnovating Platform Awards! This is a tremendous achievement and recognition of the company's innovative solutions, cutting-edge technology, and exceptional performance in the insurtech industry.
⚡️Xos and Loomis join forces to revolutionize fleet operations with 150 Armored Electric Vehicles. The use of XOS EVs is expected to improve the efficiency and security of Loomis' fleet operations.
⚡️Deftpower has partnered with TomTom to enhance its fleet management platform, integrating TomTom's advanced mapping, traffic information, and vehicle tracking data. This partnership will help fleet operators optimize their routes, reduce fuel consumption, and improve operational efficiency.
⚡️Congrats to Electric Era for being featured as a top company in the EV space by Just Funded Media. One of 71 businesses selected based on track record, executive leadership, market share, innovation, and ESG rating. It's an honor to be recognized in such a booming industry!
⚡️Our Managing Partner Rodolfo Dieck, joined Brandon Bartneck in his podcast 'Future of Mobility' to discuss what sets PV apart, key trends for 2023, tips for first-time founders, and more. You can listen to the podcast here.
Interesting Reads
🔍Hey EV Owners: It'd Take a Fraction of You to Prop Up the Grid
Probably by now you've noticed that we at Proeza Ventures are bullish on the EV transition and excited about all the opportunities that it will bring with it.
As this recent article in the Wired magazine highlights, there's lots of debate whether EVs will break down the electrical grid, or au contraire, help stabilize it. As you might have guessed, we are on the second camp.
Cars are becoming batteries on wheels, and not making full use of that power, would be a waste. Utilities across the globe currently reward homeowners for helping shift the energy load (think HVAC systems), and such programs could be applied to EVs to avoid costly infrastructure upgrades as well as to maximize the use of renewables.
Recently, GM, Ford, and Google announced they have teamed up to establish standards for scaling up the use of Virtual Power Plants (VPPs), which includes EVs, to ensure the grid remains reliable.
While bidirectional charging is still in its infancy (with an estimated 100 pilots currently taking place across the world), the signs clearly point out to a future where EV drivers could have #freechargingforlife
🔍How Waze Changed the Way We Drive
There's no better example of digital solutions revolutionizing the mobility space than Waze. Imagine the world we used to live in before Waze was invented. Think of all the hours we used to waste sitting in traffic, on closed or under construction roads, or even in our daily commute, which we may have known by memory but took twice as long as it should have. Waze has changed the way we drive, but what makes its value proposition so compelling? The answer is simple: the founders fell in love with the problem, not just the solution. Fortunately for them, Waze's problem was a common, worldwide challenge.
Waze managed to combine the best of both worlds – a digitally driven technology that mapped every public route, with a community of users who were willing to work together to avoid spending more time stuck in their cars. What made the product so attractive to users was its focus on the driver's needs. As the founder of Apple, Steve Wozniak, once said, "Falling in love with the problem means valuing the end user as the key to success, not just your ideas and creations." This mindset allowed the founders of Waze to create a top-of-the-class platform for digital navigation that not only engaged users, but also made them stakeholders in the community. They were at the center of the solution, feeding the database and creating a connected community motivated to be part of this movement. Every time I receive a Waze notification asking me to confirm if a road is still closed or if an accident is still there, I'm more than happy to help. I know that the route I'm taking is being modified to be the best one, thanks to someone else who answered these types of notifications earlier in the day.
As advocates in the mobility space, we know that connectivity and community collaboration can create tremendous changes in the way we move. With predictions about high dense urban areas, it's important to think about what other types of "Wazes" we'll invent to keep mobility in motion. From a business perspective, it's incredible to see how a user-focused solution can transform a simple daily activity like driving into a $1 billion company.
🔍More EVs to Qualify for Tax Credit Following Treasury Changes
Electric vehicles are primed for large scale adoption; yet one of the biggest detractors in the eyes of the consumer has always been higher prices relative to ICE vehicles. A big battle has been won in this arena, as the Treasury Department of the United States has announced changes in the eligibility requirements for a $7,500 tax credit for electric vehicles. Under pressure from the auto industry, the changes come to better define the requirements and follow up revisions made in the Inflation Reduction Act. These modifications will allow more vehicles to qualify for the credit, reducing the overall price of the entire EV category. This decision was widely welcomed by the auto industry, offering some breathing room at a time when several key components are eating away at margins and profits.
From the consumer perspective, the law enables more buyers to take advantage of the credit by removing the cap on the number of vehicles sold per manufacturer, yet also introduced new restrictions based on vehicle price, taxpayer income, and where the model was built. To be eligible for the credit, EVs must be assembled in North America and have a suggested retail price that does not exceed a certain amount.
This will surely function as a great catalyzer in EV adoption; one of the largest roadblocks to adoption, as cited by consumers, has always been price (and how this price compares to that of similar ICE vehicles). As the price of EVs reach parity with those of ICE vehicles, consumer adoption will increase dramatically for all consumer profiles, especially in low-price segments.
🔍The E-Bike Revolution
The future of transportation is here, and it's electric. E-bikes have emerged as a game-changer in the world of micromobility, offering a practical and cost-effective solution for short commutes.
The Benefits E-bikes are not only environmentally friendly, but they also promote a healthy lifestyle. According to a recent analysis, when a household buys an e-bike, their driving decreases by over a third. This means e-bikes have the potential to significantly reduce the number of cars on the road, leading to less traffic and improved air quality. Furthermore, e-bike subsidies are 2.9 times more cost-effective per dollar at displacing gasoline miles than traditional electric vehicle (EV) subsidies. This makes e-bikes a more attractive option for both consumers and policymakers.
Denver setting the example While there are some challenges in implementing e-bike programs, cities like Denver are leading the way in making e-bike transportation a reality. In 2019, Denver launched a rebate program to incentivize residents to buy e-bikes, and it has been a resounding success. According to a recent article by Bloomberg, the program has "a hidden power" – it has reduced car trips and traffic congestion, making the city more livable for everyone. This shows that with the right incentives and support, e-bikes can play a major role in transforming transportation for the better.
In conclusion, the rise of e-bikes as a viable mode of transportation is gaining momentum, and with good reason. From cost-effectiveness to practicality, there are numerous benefits to using e-bikes for short commutes. The future of transportation is moving towards greener and more efficient alternatives, and e-bikes seem poised to be a key player in this shift.
We at Proeza Ventures are proud to give a shoutout to our portfolio company Ridepanda, who are at the forefront of the e-bike revolution. They provide a complete e-bike fleet management solution that makes it effortless for companies to offer their employees e-bikes for their commutes, thus making a significant contribution to the future of transportation
Some deals we found interesting
🚀Ampeco– a Sofia-based white-label EV charging management software platform, raised $13M Series A, led by BMW i Ventures, with the participation of Bulgarian Launchub Ventures and Cavalry Ventures. (25. Jan. 23)
🚀Auto.cl– a Chile-based platform that facilitates the search, comparison, and purchase of your next car, raised $1M led by Civic Inversiones. (3. Feb. 23)
🚀Car IQ– a San Francisco-based company providing vehicle payments solutions, raised $15M in additional Series B funding, led by Forte Ventures With Participation From Visa, Bridgestone, Navistar, Circle K. (7. Feb. 23)
🚀Cars and Bids– a San Diego -based auction platform that helps car owners sell rare vehicles has made a big sale of its own, raised $37M in new funding led by The Chernin Group. (30. Jan. 23)
🚀Caura– a London-based company that provides a single interface for all driving-related payments, raised £4M, led by Lloyds Bank. (30. Jan. 23)
🚀ChargerHelp!– a Los Angeles-based leader in operations, maintenance and workforce development for the EV industry, raised $17.5M in Series A financing, led by Blue Bear Capital with investments from Aligned Climate Capital, Exelon Corporation. (14. Feb. 23)
🚀Eccocar- a Spain-based startup that offers digital solutions for car sharing and micro-mobility, raised £1.9M, led by Amadeus, with the participation of the Cosmen family (Alsa) and the European venture capital fund Ninepointfive. (19. Dic. 22)
🚀 Forum Mobility– an Oakland-based zero-emission trucking solutions provider, closed a $15M Series A, led by CBRE Investment Management. (19. Jan. 23)
🚀Good Vision– a UK-based AI-driven urban transportation analytics startup, raised €2.7M in a funding round, led by Lead Ventures with the participation of Credo Ventures and Sofia Angels Ventures. (25. Jan. 23)
🚀HopDrive– a Richmond-based company that provides an elegant, turnkey solution that automates the way you move cars for your customers, raised $8M in Series A, led by Atlanta's Cox Enterprises Inc. and included participation from Atlanta VC firm Overline, St. Louis automotive logistics firm Acertus and Ally Ventures. (24. Jan. 23)
🚀Impel– NY-based category creator in digital engagement software for automotive manufacturers, marketplaces, and dealers, raised $104M in growth investment, led by Silversmith Capital Partners, with additional investment from Wavecrest Growth Partners. (19. Jan. 23)
🚀JOKR– a Berlin-based food delivery service raised $50M and is now valued at $1.3 billion, led by existing investor G Squared, with GGV Capital, Tiger Global Management, and HV Capital. (6. Feb. 23)
🚀Liminal– a Californian-based battery manufacturing intelligence company, raised $17.5M Series A2, led by ArcTern Ventures, joined by new investors Northvolt and Ecosystem Integrity Fund. (6. Feb. 23)
🚀Motor– a Virginia-based company that provides a consumer EV adoption platform for electric utilities, raised a $7M Series A investment round co-led by The AES Corporation and Mitsubishi Corporation. (7. Feb. 2023)
🚀ONE– a Michigan-based battery startup raised $300M Series B funding round, led by Franklin Templeton and Fifth Wall. (1. Feb. 2023)
🚀Outrider–a Colorado-based software company that provides autonomous yard operations for logistics hubs, raised $73M Series C , led by FM Capital, with participation from Abu Dhabi Investment Authority; Nvidia's venture capital group, NVentures; B37 Ventures, and others. (20. Jan. 23)
🚀Phantom AI– a Silicon Valley-based startup that provides a comprehensive autonomous driving platform featuring computer vision, sensor fusion, and control capabilities, raised $36.5M in its Series C, led by InterVest with participation from KT Investment and Renaissance Asset Management, and other new investors. (2. Feb. 23)
🚀PortPro, a Jersey City and Los Angeles-based transportation management software provider, raised $12M in funding, led by Avenue Growth Partners. (27. Jan. 23)
🚀Rapid– a California -based startup that provides domain-specific FPGAs for diverse target applications and power, performance, and area, raised $15M in a Series A , led by Cambium Capital. (12. Jan. 23)
🚀Recycleye– a London-based provider of waste and recycling technologies, raised $17M in Series A funding, led by DCVC. (2. Feb. 23
🚀Sheeva.AI– a Virginia-based company that offers an in-car payments and commerce solution that introduces vehicle location-based services that help monetize the driver experience, raised $9.25M Series A, led by strategic investors Reynolds and Reynolds Company, with Poppe + Potthoff Capital GmbH and Pegasus Tech Ventures. (19. Jan. 23)
🚀Scythe– a Colorado-based startup that develops autonomous machines to tackle challenges in unstructured outdoor environments raised $42M Series B, led by Energy Impact Partners, with the participation of other new investors. (24. Jan. 23)
🚀Spartan– a California-based leading sensor software company raised $17M, led by 8VC, and joined by Microsoft, Prime Movers Lab, MaC VC, and others. (1. Feb. 23)
🚀Spiffy – a North Carolina-based on-demand car care startup, raised $30M Series C financing round, led by Edison Partners, and included local investors Bull City Venture Partners and IDEA Fund Partners. (14. Feb. 23)
🚀Tembici– a Brazil-based micro-mobility platform focused on bikes, raised $32M, led by BNDES. (3. Feb. 23)
🚀TwinCo– a Spain-based startup raised $12M in equity and debt, led by Quona Capital with participation from Working Capital Innovation Fund alongside existing investors Mundi Ventures and Finch Capital. (24. Jan. 23)
🚀Turno– an India -based platform for commercial electric vehicle distribution and financing, raised $13.8M in its Series A round, co-led by international VC firms B Capital and Quona Capital. (13. Feb. 23)
🚀Vai- a Colombia-based carpooling platform for university communities, raised a pre-seed round of $530K, led by Makers Fellowship, BDO ScaleUp, and the entrepreneurship Program (PEMP) of the University of Los Andes. (10. Feb. 2023)
🚀Velocity-X– a Colombian-based that helps manufacturers and entrepreneurs sell through digital channels, raised $3.5M in seed funding round, led by Güil Mobility Ventures, with the participation of Vertical Partners, AngelHub e Imagine Ventures. (12. Jan. 23)
🚀VOOL– an Estonian-based EV charging startup, raised €1.7M in its latest seed funding round, led by Specialist VC. (2. Feb. 23)
🚀Volta– a San Francisco-based EV charging network operator, will be acquired by a U.S.-based subsidiary of oil company Shell for $169M. (18. Jan. 23)
🚀Waabi– Toronto-based new autonomous vehicle startup raised $83.5M, led by Khosla Ventures, with participation from Urtasun's former employer, Uber, and Aurora. (8. Jan. 23)
🚀Warp– a Los Angeles-based tech-powered freight network specializing in middle-mile solutions, raised $5.7M in additional Seed funding, led by MaC Venture Capital, Bonfire Ventures, and Frontier Venture Capital. (5. Feb. 23)
🚀Worlds– a Dallas- based industrial metaverse platform that brings AI-based automation directly into the ground floor operations of large industrial companies, raised $21.2M Series A1, led by Moneta Ventures with participation from existing investors (9. Jan. 23)
Where we've been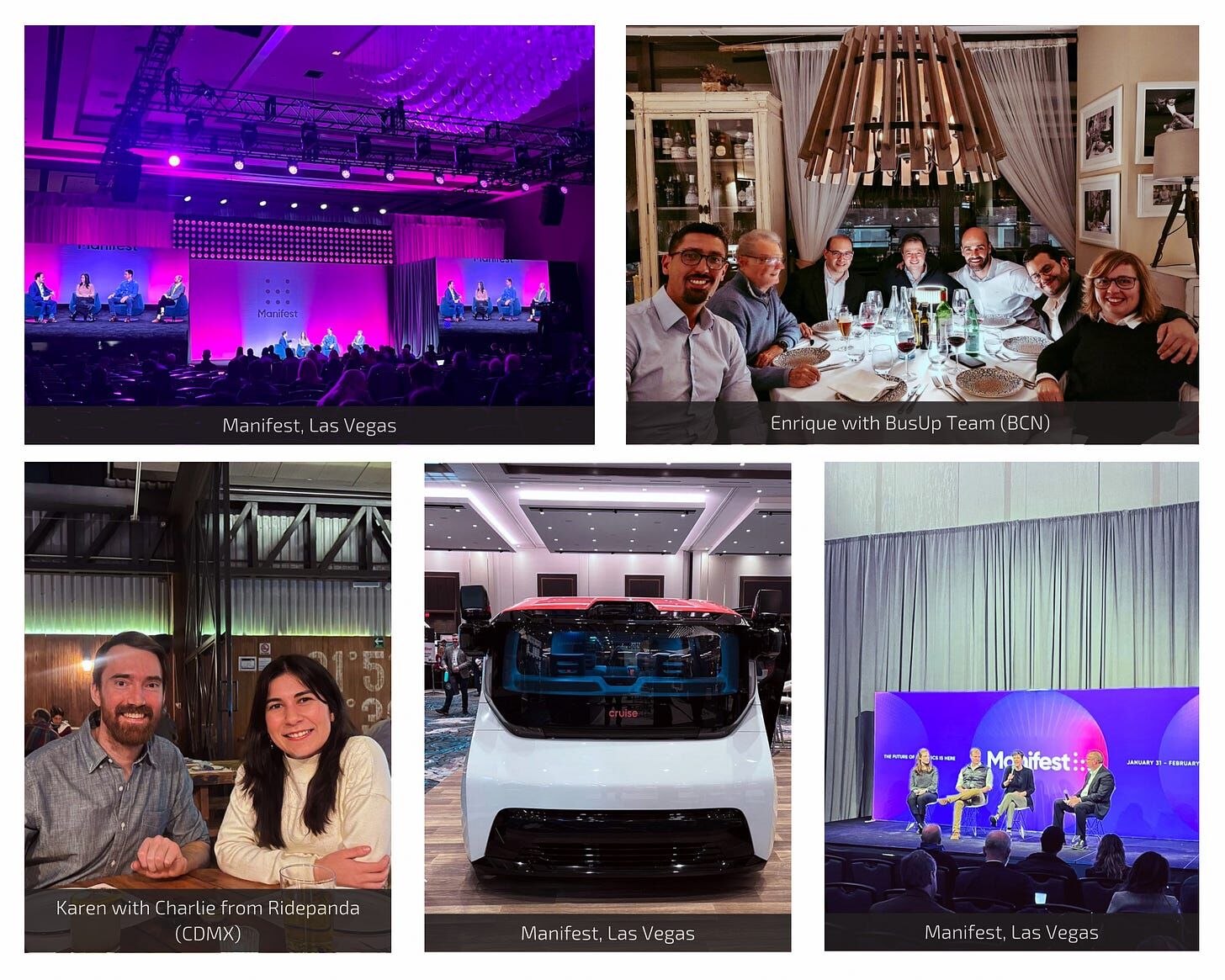 Where to find us next
🏎 Startup Olé March 26-27 (CDMX, MX)
🏎 Cumbre Amexcap March 28-29 (CDMX, MX)
🏎 Other events in the Mobility ecosystem
Work at our PortCos
👩🏻‍💻Head of B2B Sales – Ridepanda
👩🏻‍💻B2B Sales Development Representative – Ridepanda
👩🏻‍💻Head of B2B Partner Marketing – Ridepanda
👩🏻‍💻Customer Support Specialist – Bliq
👩🏻‍💻Lead Engineer Gesamtfahrzeug – Onomotion
👩🏻‍💻Data Analyst/Specialist Finance – Onomotion
👩🏻‍💻Head of Finance – Solvento
👩🏻‍💻Customer Success Specialist – Solvento