Issue 010
Welcome to the Paddock, your VIP access to unique insights from some of the best mobility founders out there and curated news and trends reshaping the mobility sector globally.
—Rodolfo, Enrique, Cecy, Karen, Horacio and Angela.
💡If you know of any startup that is also committed to #reshapingmobility by being more efficient, safer, and environmentally friendly reach us here.
🏁Come visit The Paddock to see the full portfolio of P.V companies.
Portfolio news
⚡️Congratulations to Busup on being named a finalist for the Best Mobility Company in the eMobility Innovation Awards 2023. This achievement is a testament to the hard work and dedication of the entire team.
⚡️We are excited to share that Lunewave's high-imaging radar solution has been integrated with NVIDIA Drive, representing a noteworthy accomplishment. This integration underscores Lunewave's commitment to advancing autonomous driving through innovative technologies and places the company at the forefront of the radar solutions market.
⚡️Congratulations to DriveU.auto on its recent accomplishment! The company's has announced an industry first, support for the cutting-edge AOMedia 1 (AV1) video codec by its Teleoperation Connectivy Platform. This allows DriveU to offer high visual quality, smoother video experiences, low data consumption and low latency.
⚡️During Women's History Month last March, we featured an interview with Eva Romagosa, the co-founder and CSO of BusUp, discussing her journey in entrepreneurship.
Interesting Reads
🔍Scratched EV battery? Your insurer may have to junk the whole car
One topic that has gotten less attention has been the cost of insuring an EV. However, it does add to the monthly cost of owning an EV and it is something that every driver should have top of mind.
As it is well known, battery packs represent up to 50% of the EV cost, making them uneconomical to replace. There's been some instances where after a minor collision, the battery of an EV has been thrown out because it is not repairable. This, in turn, has led to a surge in premiums for EVs, which not only increases the cost of owning one, but also reduces the benefit of owning one since the full green effects (CO2 emission reductions) are not materialized (in case you have to replace the battery early in the life of the vehicle).
In addition to this, comes the decision of what to do with scrapped battery packs. Given that OEMs are not willing to share battery health data with auto repair shops and insurers alike, it is hard for these parties to know if the batteries are damaged and if they can continue in use. If we really want to have a circular economy around EVs, this has to change, maximizing the battery life is crucial in developing a more sustainable solution.
This creates an additional problem for the EV used car market (see here). Buyers want to know the battery health data of the specific vehicle they are purchasing, and if that's not readily available, it will create a price gap between buyers and sellers, impacting the residual value of EVs.
🔍Banking isn't the only 'single point of failure' entrepreneurs should be rethinking
The SVB collapse has been dominating start-up news lately, but we wanted to share some valuable insights from this event.
The start-up ecosystem is renowned for its high level of innovation, disruption, and risk. Although we navigate one of the riskiest playgrounds in the financial industry, no one could have predicted what happened in mid-March. This article aims to share lessons learned from the situation and focus on moving forward.
First, let's learn to avoid the infamous "single points of failure" by diversifying our assets to mitigate risks in businesses, not only in bank accounts but also in team structure, data storage, and operations. The old adage "don't put all your eggs in one basket" remains relevant, as recent events have reminded us.
Second, anticipate the unexpected. Companies based in emerging markets should reinforce local solutions for more efficient adaptation when global systems falter. As the COVID supply chain crisis demonstrated, local resources can be as effective as foreign ones when rapid action is needed. It's crucial to be prepared for anything.
Third, operate as if fundraising is no longer an option. Although not directly linked to the SVB chaos, the situation certainly rattled many and prompted reflection on financial management. In today's entrepreneurial world, prioritizing profitability and responsible unit economics is essential. With creativity in our DNA, let's reimagine the start-up ecosystem, developing strategies for sustainable growth without excessive cash burn. The possibility of even the strongest financial systems collapsing is no longer unthinkable, and we must be ready to generate cash instead of burning it.
We made sure to put together a list of banking/treasuries management practices here.
🔍The EV Ecosystem Just Got Tastier
Chipotle, the well-known fast-food chain, is making a smart move by diving into the EV charging game, showing how businesses can effectively tap into the growing EV ecosystem. As mentioned in a recent article, "Chipotle tests new all-electric restaurants with rooftop solar panels and EV chargers," the company isn't just appealing to eco-conscious customers but also strengthening its brand as a sustainability leader.
Tackling the concerns about charging infrastructure, highlighted in a recent survey, Chipotle's addition of EV chargers to its all-electric restaurant design demonstrates how businesses can play a crucial role in overcoming these challenges and contributing to the broader EV ecosystem. This initiative not only eases range anxiety by potential EV owners but also boosts Chipotle's image as sustainability champion .
As the EV market keeps advancing, it's vital for businesses to spot the opportunities offered by the electrification trend. Chipotle's creative initiative serves as a prime example for forward-thinking companies, connecting the dots in the EV ecosystem and laying the groundwork for a more sustainable and electrified future. We can't wait to see which other businesses will follow Chipotle's lead, adding to the growing EV ecosystem, speeding up the shift towards electric mobility, and creating a greener tomorrow.
For an interesting take on the topic, check out the linked survey which sheds light on the misconceptions around EV charging infrastructure. It reveals that concerns may be misdirected, and we may be worrying about the wrong things when it comes to the electrification of transportation.
🔍For SUVs and EVs, subtlety is out and boldness is in
The trend of designing electric SUVs with a more aggressive, nature-inspired aesthetic is becoming increasingly popular among automakers. This shift can be seen in the use of rough textures, earthy colors, and angular shapes, as well as in the naming of models after animals and natural landmarks. The trend reflects a desire to appeal to consumers who value adventure, ruggedness, and outdoor activities, as well as a recognition that EVs need to overcome the perception of being too delicate or "soft." Some experts caution, however, that the trend could be seen as a form of "greenwashing," as it suggests a connection to nature while the vehicles themselves may still contribute to environmental problems.
These things highlight the ways in which automakers are adapting to changing consumer preferences and market demands in the SUV sector. As more consumers become interested in environmentally friendly vehicles, automakers are seeking ways to appeal to a wider audience while also addressing concerns about the performance and image of EVs. However, this also raises important questions about the role of marketing and design in shaping perceptions of sustainability, and whether or not these efforts are truly effective in promoting environmentally responsible behavior .
Some deals we found interesting
🚀Amogy– a New York-based pioneer of emission-free, energy-dense ammonia power solutions raised $139M Series B-1 fundraising, led by SK Innovation, joined by other investors including Temasek, Korea Zinc, Aramco Ventures, AP Ventures, MOL PLUS, Yanmar Ventures, Zeon Ventures and DCVC. (22.Mar.23)
🚀BlaBlaCar–a Paris-based long-distance carpooling company, acquired Klaxit, a carpooling service for daily commutes. (15.Mar.23)
🚀Bonnet– a London-based EV charging app with a European scope raised £3M in equity led by GV, Lightspeed Venture Partners, and 20VC joining partners, such as Tier Mobility, Wise, and Deliveroo. (14.Mar.23)
🚀Broom– an Indonesia-based auto-financing startup raised $10M pre-Series A financing round led by Openspace Ventures. (13.Mar.23)
🚀Caramel– a Los Angeles-based app-based solution that helps car buyers and independent or private sellers securely connect and complete transactions raised $12M seed funding round from lead investors Zeev Ventures, Primera Capital, and Hearst Ventures. (22.Mar.23)
🚀CarmaCare– a Chicago-based startup focused on making buying extended warranties easier for car owners, raised $4.5M in seed funding from Inspired Capital, alongside Twelve Below, Revelry and 81 Collection. (4.Apr.23)
🚀Chargetrip– an Amsterdam-based API-based range prediction tool and EV routing engine raised €10M in a Series A funding round led by London-based HSBC Asset Management, with participation from Riverstone and existing investors. (21.Mar.23)
🚀CHARGE+ZONE– an India-based EV charging company raised $54M in Series A1 funding led by BlueOrchard Finance with existing and new institutional investors. (20.Mar.23)
🚀ClearFlame– a Chicago-based raised $30M in Series B funding, led by Mercuria Energy Group, Breakthrough Energy Ventures, Rio Tinto, and WIND Ventures. (9. Mar.23)
🚀Cowboy– a Brussels-based e-bike company raised €10M. (9.Mar.23)
🚀DeepDrive-a Munich-based electric motor startup raised £15M Series A investment led by BMW i Ventures and Continental's Corporate Venture Capital Unit. (21.Mar.23)
🚀Envisics– a UK-based startup that designs holographic in-car technology that projects navigation, safety alerts and other data on the inside of the windscreen, raised $50M in funding, led by Hyundai Mobis, General Motors Ventures, SAIC Motors and Van Tuyl Companies. (9.Mar.23)
🚀Fairmatic– a New York-based AI-powered commercial auto insurance raised $46M in new funding led by Battery Ventures, with participation from current investors and Bridge Bank. (16.Mar.23)
🚀Fetch.ai– a Cambridge -based platform that provides a comprehensive solution for building and deploying peer-to-peer applications with automation and AI capabilities raised $40M in funding led by DWF Labs. (29.Mar.23)
🚀Go– a Pensilvania-based digital car platform raised $6M in funding, led by Starting Line VC with participation from Digital Horizon. (20.Mar.23)
🚀Mecanizou– a São Paulo-based startup that creates tools for the entire automotive service chain, connecting service providers to customers and dealers of automotive parts and materials, raised $14.5M Series A round, led by Monashees, with participation from Alexia Ventures, FJ Labs and Dalus Capital. (21.Mar.23)
🚀Pull Systems– a Los Angeles-based software-as-as-service platform that provides performance management software to EV suppliers, manufacturers and operators raised $5M in a seed round led by UP. Partners.(17.Mar.23)
🚀P97 Networks– Houston-based mobile commerce and digital marketing platform provider to the convenience retail, auto industry and fuel market, raised $40M in equity financing led by Portage, with participation from existing investors. (31.Mar.23)
🚀Revolv– a San Francisco-based full-service provider of electric medium-to-heavy commercial fleets, raised $15M Series A funding round led by Greenbacker Capital Management LLC. (21.Mar.23)
🚀Rolling Energy Resources– a Colorado-based EV Telematics Software Company raised a strategic minority investment led by Generac Power Systems. (7.Mar.23)
🚀Spring Free EV– a USA-based electric vehicle-focused fintech company raised $31M in debt facility and a Series A equity investment led by Spring Lane Capital. (4.Apr.23)
🚀Venti– a Boston -based autonomous logistics for global supply chain and industrial hubs raised $28.8M in a Series A financing, led by LG Technology Ventures, with participation from Safar Partners, UOB Venture Management, and existing investors Alpha JWC and LDV Partners. (28.Mar.23)
🚀Volta Trucks– a Sweden-based EV startup that believes it can build better urban delivery vehicles raised $260M in a Series C round of funding, led by Luxor Capital, Byggmästare Anders J Ahlström, with the participation of B-FLEXION. (21.Feb.23)
🚀Zedify– a Cambridge-based e-cargo bike delivery company raising £5M of funding led by Barclays Sustainable Impact Capital and MEIF Proof of Concept & Early Stage Fund, Additional funds came from original investors, Green Angel Syndicate, and new investors, Prova. (20.Mar.23)
🚀Zeway– a Paris- based instant charge for urban electric mobility solutions startup raised €26.75M in a series-B round of financing, led by Fonds de Modernisation Ecologique des Transports (Demeter), InnovAllianz and WaterStart Capital (NCI), as well as new entrants including the Banque des Territoires, ADEME Investissement, Matmut Innovation and several business angels. (17.Mar.23)
🚀zMatch– a Brazil-based subscription-based EV fleet for consumers raised $10M round, led by Canary, Revolution and IGF. (9.Mar.23)
🚀4.screen– a Munich -based drivers interaction platform raised $21M in Series A funding round led by S4S Ventures and Continental VC. (4.Apr.23)
Where we've been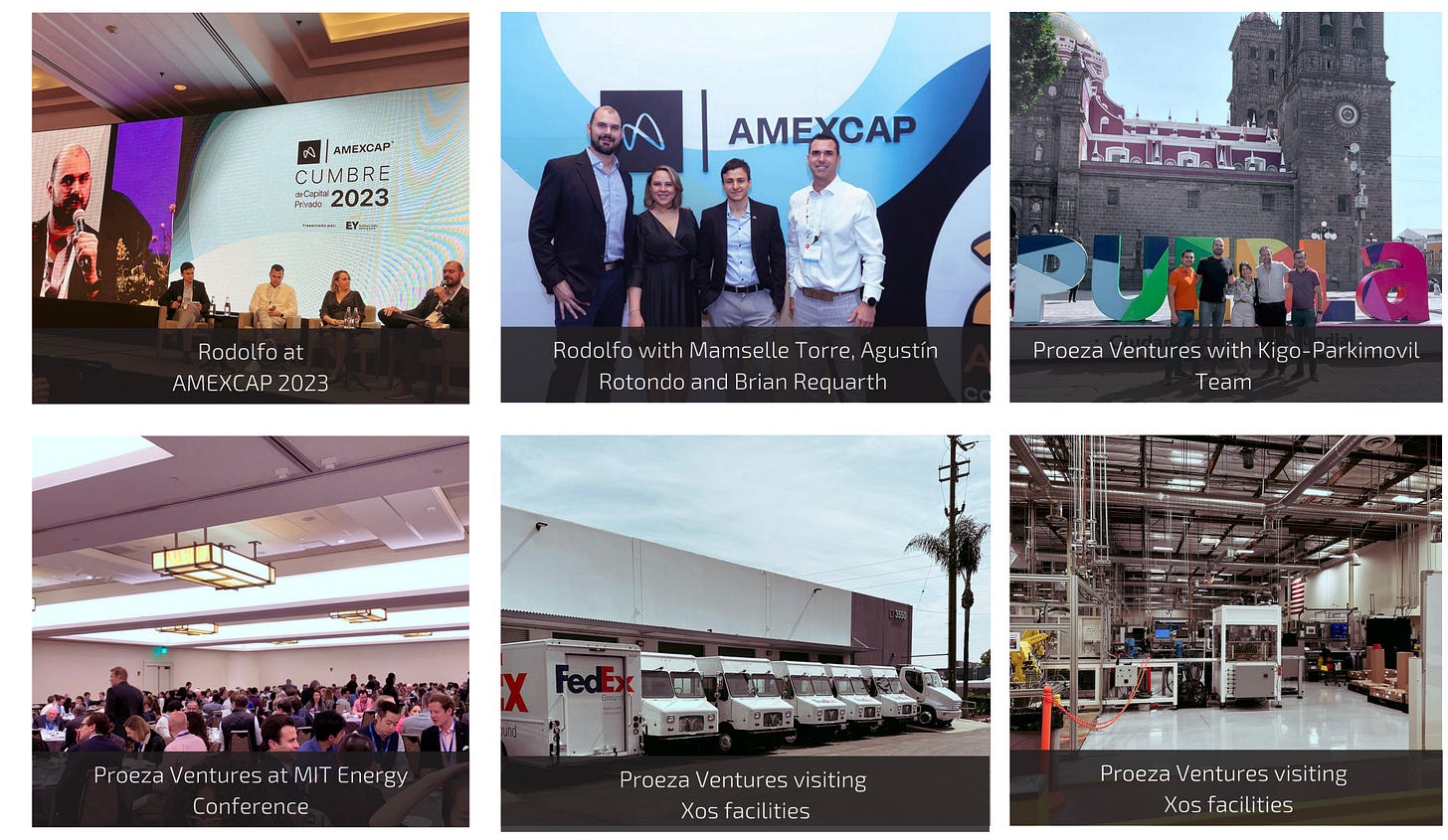 Where to find us next
🏎VC Latam Summit April 18-20 (Miami, USA)
🏎MOVE June 15-16 (London, UK)
🏎Other events in the Mobility ecosystem
Work at our PortCos
👩🏻‍💻Head of B2B Sales – Ridepanda
👩🏻‍💻B2B Sales Development Representative – Ridepanda
👩🏻‍💻Head of B2B Partner Marketing – Ridepanda
👩🏻‍💻Head of Finance – Solvento