Issue 007 | By Proeza Ventures
Jan 12
Welcome to the Paddock, your VIP access to unique insights from some of the best mobility founders out there and curated news and trends reshaping the mobility sector globally.
—Rodolfo, Enrique, Cecy, Karen, Horacio and Angela.
💡If you know of any startup that is also committed to #reshapingmobility by being more efficient, safer, and environmentally friendly reach us here.
🏁Come visit The Paddock to see the full portfolio of P.V companies.
Portfolio news
⚡️Solvento has a new alliance with HelloDoctor to continue improving opportunities and quality of life for #carriers.
⚡️Bluedot launched their latest study, Key Themes Set to Reshape C-Stores in 2023, revealing what C-store trends and predictions are expected on the horizon.
⚡️Congrats to Locomation for partnering with #AON3D to use 3D printing to dramatically cut costs, save time, and boost speed to market.
⚡️Big congrats to OnoMotion for concluding the EU-funded project to help make carbon-free deliveries across Germany.
Interesting Reads
🔍Five Venture Capital Trends to Watch in 2023
Over the last couple of years, the VC world has been an interesting space full of adventures, and we know that 2023 won't be the exception. As the year begins, we feel very excited about the new trends driving the market and amazed at how players are starting to make their bets. Something we are very bullish on is technology automation and adaptation. Due to the rapid changes across the tech space, companies are starting to create more flexible and automated technologies that can quickly adapt to ensure efficiency and stay competitive. Another behavior among startups that we believe is going to be crucial for this next year, is the push for synergies between businesses and sustainability; it's to see amazing how companies are seeking circular economies taking advantage of all resources, and creating a feasible path to #profitability, which it's the trending topic these days.
The term "Unicorn" was the talk of the town for 2020 and 2021 (companies valued at a +$1B USD). This year, we are starting to hear more about "Zebras", companies being both 'black and white' characterized by alleviating social, environmental, or medical challenges while also tending to their profitability. With the ESG and Climate tech trends, it's going to be very interesting to see how Venture Capital investors start rewarding these noble "profit for a cause" players. For sure, we will be very close to this space since we know Mobility and Sustainability are synonyms, and teamwork is vital in order to keep #reshapingmobility.
🔍With New EVs Arriving, Brand Loyalty Goes Out the Window
For auto manufacturers, loyalty from their existing customers has long been a key driver of future sales; put plainly, a Ford F-150 driver is more likely than not to trade-in his used car for a newer version of the same model than he is to change brands. This has resulted in a large amount of consolidation and market-share stability in the industry, only experiencing significant variations when consumer behavior changes due to external shocks (i.e. introduction of Japanese cars on par with surging gas prices at the turn of the century).
In a similar vein, worldwide supply chain troubles, chip shortages, and the transition to #electricvehicles have made a similar shock to consumer behavior. Faced with low or no inventory, consumers vie for any electric vehicle available – disregarding brand loyalty and experimenting with new makers and models. In an industry where poaching customers from rival brands is a tough and expensive endeavor, winning early adopters to capture market share is vital.
🔍The Battle Over Gig Worker Status is Heating Up
The debate over how to classify gig workers has gained momentum again recently. A judge in California ruled that Prop 22, which allows ride hailing and delivery companies to classify workers as independent contractors in the Golden State, was unconstitutional since it restricts the ability to regulate worker's compensation rules.
As expected, affected companies such as Uber, Lyft, Doordash, among others, filed an appeal and were able to uphold Prop 22 – for now – until a final decision on the matter is made (which is expected rather soon, within 90 days of the appeal). On top of that, just last week a judge in NY sympathized with Uber and blocked regulators from raising the pay of gig drivers due to a faulty methodology to propose the increase.
Gig worker classification is a topic of debate around the globe. There needs to be a mechanism in place to ensure that, at the very least, gig workers are paid fairly for their work, not to mention having access to benefits and days off. However, we believe that this battle is far from over and will take many different shapes and forms in each country, state, city and jurisdiction. The way in which gig workers are employed varies greatly by geography, with many markets aggregating them more like a fleet operator, providing for a very different market dynamic.
Nevertheless, and in our view, both sides need to find a common ground since gig companies need gig workers to function for the foreseeable future (unless you ask Waymo and Cruise who are advancing their AV deployments) and gig workers need gig companies as they have found an alternative way of making a living and providing a service we all have grown accustomed to, and in all honesty, would have a hard time letting go.
🔍High-Tech Cars Are Killing the Auto Repair Shop
In the last decade, vehicles have become more complex and computerized, with sensors, chips, and software controlling various systems. This has made it more difficult for auto shops to repair vehicles, as they require expert knowledge and specialized tooling. As a result, we have seen a decline in mom-and-pop shops, due to consolidation and the retirement of owners. In 2021, 327 independent shops were acquired, and the number of vehicles per active service bay increased from 225 in 2016 to 246 in 2021. This shortage of repair shops has led to longer waiting times for repairs, with an average of 2.1 more days needed in 2021 compared to 2019.
However, there are some positive trends to consider. The need for more specialized knowledge and tooling should lead to higher quality repair shops, even as consolidation occurs. The tech-savvy nature of new vehicles may also attract a new, more educated pool of talent to the industry. Additionally, electric vehicles have fewer moving parts and require less maintenance and repair, which could help ease the supply and demand equation for repair services. Finally, the increased data provided by sensors and chips can be used to predict maintenance and failures, improving service levels for new vehicles.
Overall, while traditional repair shops are facing diverse challenges, we believe that as the market consolidates, eventually more sophisticated and higher quality shops will take their place in the market. There will be fewer of these shops, but more specialized staff that will be able to handle the needs of more advanced vehicles. This in combination with lower maintenance needs of electric vehicles and predictive maintenance should also help improve the supply and demand equation for repair services.
Some deals we found interesting
🚀Automotus– a Los Angeles-based curb management tech helps cities, fleets & businesses increase revenue while making streets lesscongested, more sustainable & more equitable, raised $9M seed round led by CityRock Venture Partners, Quake Capital, Bridge Investments, Unbridled Ventures, Keiki Capital, NY Angels, Irish Angles, SUM Ventures and LA's Cleantech Incubator Impact Fund. (5. Dec.22)
🚀EcoG- a Munich -based developer of an IoT operating system intended for electric vehicle charging that can be integrated into local businesses raised €6M of Series A led by Helen Ventures, Lindner Holding and Ananda Impact Ventures. (20. Dec.22)
🚀Eco-Movement– a Netherlands– based EV data solutions provider raised an undisclosed amount in Series A funding led by Dow Jones and Ponooc. (22. Dec.22)
🚀Group14 Technologies– a Woodinville- based startup that is making silicon anode batteries for EV manufacturers raised a $214M round at a $3+ B valuation, from a consortium that includes Microsoft's Climate Innovation Fund, Lightrock Climate Impact Fund, Moore Strategic Ventures, Oman Investment Authority, and Molicel. (14. Dec.22)
🚀Helm.ai – a California-based autonomous driving and robotics company raised $31M Series C led by Freeman Group. (19. Dec.22)
🚀Merqueo– a Colombia- based on-demand grocery delivery filed to go public on the Nasdaq stock exchange under the ticker symbol of MERQ. (28. Dec.22)
🚀Opsys Tech– an Israel- based developer of patented True Solid-State Scanning LiDAR technology raised a $51.5M Series C with backing from investors including 83North, Translink Capital and Saban Ventures. (6. Jan.22)
🚀Ottopia– an Israel- based startup teleoperation software that can remotely assist, guide, and even safely control fleets of autonomous vehicles and machines, raised $14.5M in Series A funding round, Included participation from ComfortDelGro, AI Alliance Fund, and existing investors such as MizMaa Ventures, IN Venture, and Next Gear Ventures. (11. Jan.22)
🚀Oxbotica– an England- based startup that develops customized software to power autonomous vehicles raised a Series C round of $140M, led by financial and strategic partners from North America, EMEA and APAC, including new investors such as Aioi Nissay Dowa Insurance Co., Ltd and ENEOS Innovation Partners. (11. Jan.22)
🚀SafeAI– a Santa Clara, Ca .-based startup specializing in converting heavy construction and mining equipment from driver-operated to self-driving, raised a $38M Series B round, with key investors including Builders VC, McKinley Management, George Kaiser Family Foundation, Energy Innovation Capital, and Moog. (14. Dec.22)
🚀Shuttle Technologies– a -based provider of affordable transportation services intended to provide safe transportation at an affordable price raised $1.5M led by South Asia Tech. (20. Dec.22)
🚀Lumotive– a Washington -based developer of autonomous vehicle software raised $13M round of strategic funding led by Samsung Ventures. (3. Jan.23)
🚀Vianova– a France-based mobility data platform raised $6.4M in Series A funding co-led by Baloise VC and XAnge. (5. Dec.22)
Where we've been
The 2023 Consumer Electronics Show (CES), held in Las Vegas, was dominated by the latest in-car technology and electric vehicles (EVs). A number of major automakers and tech companies showcased their latest developments in autonomous driving, connectivity, and electric powertrain technology. Some of the standout products and announcements included: Audi's new AI-powered virtual assistant for its e-tron EV, Toyota's new concept for a fully autonomous, ride-hailing vehicle, and Rivian's new R1T electric pickup truck. Overall, it seems that the future of the automotive industry is focused on increased connectivity, autonomy, and electrification.
Our partner Enrique Zambrano experienced firsthand the event and had the opportunity to gather with several of our portfolio companies, including Lunewave, Ottometric, and DriveU. Among the highlights of his trip was the chance to drive an AV using DriveU's technology stack, he did so well that Alon and Doron tried to poach him to help out their customers.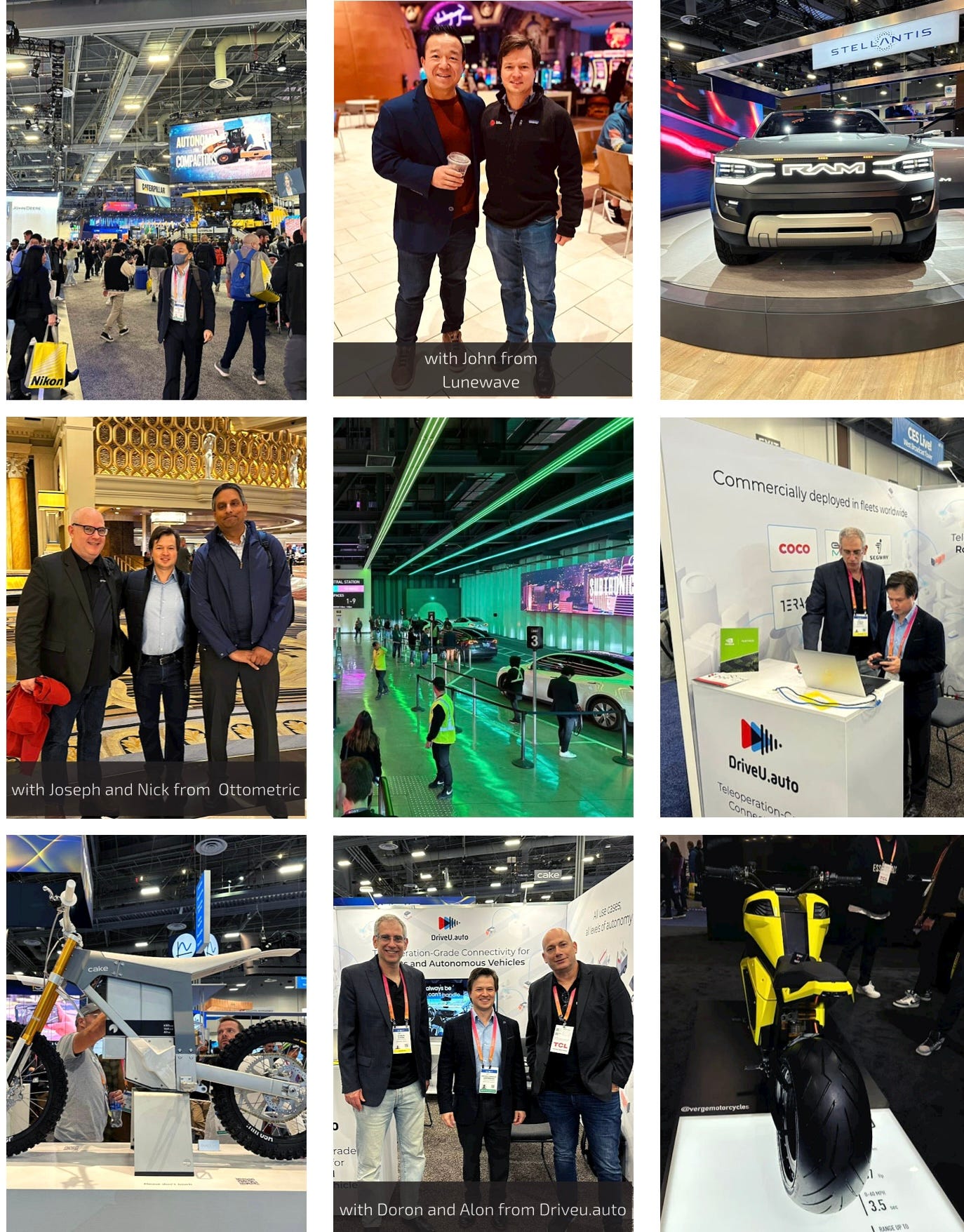 Where to find us next
🏎 Manifest Jan 31- Feb 2 (Las Vegas, NV)
🏎 Startup Olé March 26-27 (CDMX, MX)
🏎 Cumbre Amexcap March 28-29 (CDMX, MX)